VMI Theatre Presents "The Odd Couple"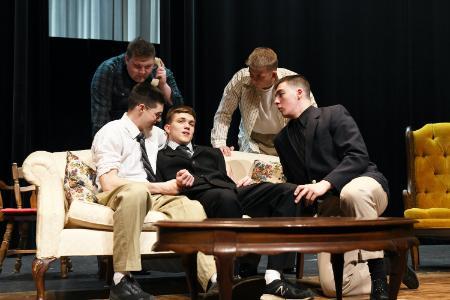 LEXINGTON, Va. March 15, 2023 — The VMI Theatre will present Neil Simon's comedy classic, "The Odd Couple" on Thursday, March 23 - Saturday, March 25 at 8 p.m., and Sunday, March 26 at 2 p.m. in Gillis Theater.
A New Yorker who recently separated from his wife moves in with his best friend, a divorced sportswriter, but their ideas of housekeeping and lifestyles are as different as night and day. The comedy revolves around their attempt to share an apartment without driving each other crazy. Oscar Madison, the perpetually broke slob is played by Ted Harris '23. Felix Unger, the meticulous and fussy photographer, is played by Matthew Frazier '23.
The cast is rounded out by John Sullivan '25, Colin Nicassio '26, Byron Rivey '26, and Luke Cockerham '26 playing poker buddies Murray, Vinnie, Speed, and Roy respectively. Tori Wright '24 and Nicole M. Samella '26 play the two British Pigeon sisters, Gwendolyn and Cecily.
The play is directed by long-time VMI Theatre director, Joellen Bland, assisted by Linda Gorman, stage manager Andrew Hartless, and assistant stage manager Heather M. Crum '23. Admission is $10 for adults and $5 for students and senior citizens ages 65 and over, payable by cash or check at the door. Cadets and children ages six and under are free. Reservations are not required. Gillis Theater is located in Marshall Hall on VMI post.
For additional information, contact Joellen Bland at 540-464-7389 or blandjk@vmi.edu.
-VMI-