VMI Welcomes Alumna as New Physician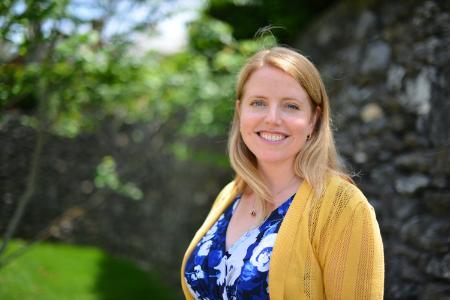 LEXINGTON, Va. May 31, 2023 — Virginia Military Institute welcomes Dr. Melissa S. Krawiec (née Williams) '01, as the new Institute physician, 25 years after she signed the matriculation book August 19, 1997, as a member of the first coeducational class. She continues the care formerly provided by Dr. David Copeland, who recently retired after treating the Corps of Cadets for 31 years.
Krawiec (pronounced KRA-vee-its), a Virginia native and youngest of three sisters, remembers discussions with her family about VMI and its plans of becoming co-ed.
"My sister Sarah and I thought of athletic and studious girls we knew in high school who would have thrived at VMI, but never considered ourselves at all," she recalled.
They attended a college fair while in high school, and her father dared her to go up to the VMI table. She had always wanted to become a Navy doctor, and was strongly considering the U.S. Naval Academy.
"So, I went up to the VMI table and introduced myself and said, 'I want to go to the Naval Academy, why don't you tell me what VMI has that the Naval Academy doesn't.' Tom Mortenson, associate director of admissions at the time, leapt to his feet, and with a big smile shook my hand, and asked me to sit down so he could tell me all about it. That evening, he registered Sarah, myself, and my best friend for the first co-ed admissions open house. After staying the night in barracks, Sarah and I both decided to apply to VMI. It just made sense to me. I loved the Honor Code and everything a VMI education represented. I knew placement to medical school was over 90% for biology majors. I was awarded a full scholarship, and that was 'icing on the cake,'" she said.
Sarah, who already had two years of college, decided to leave VMI a few weeks following matriculation. Even though she knew it was an incredibly difficult decision for Sarah to make, and hard to see her sister leave, Krawiec conceded it was the right decision for her, as she went to nursing school and became a nurse with a rewarding career.
Krawiec said she and her female brother rats (BRs) didn't see themselves as trailblazers, just cadets trying to get through VMI. "I always felt I had to be the best at things because the burden of proof was on us, we were under the microscope. I was very single-minded that first year, and never seriously considered going home. I was in the middle of everything. If the guys were going to do it, I was going to do it. I was involved with theater, women's rugby and soccer clubs, Taekwondo, the rock climbing club, a little bit of everything. I worked at the Marshall Museum, which was a great experience, as I met many alumni and heard their stories."
Unable to commission into the military because of a health condition, Krawiec decided to apply to medical school at West Virginia School of Osteopathic Medicine (WVSOM) in Lewisburg, West Virginia, after Col. Wade Bell took a bus load of cadets there to tour the school.
"I hadn't planned on going. I told Colonel Bell that I didn't want to go to osteopathic school, that's where people go when they can't get into real medical school," she joked.
But he encouraged her to get in the van, and they rode to WVSOM on a gorgeous fall day. That evening they listened to a talk about osteopathy.
"That was it. I was sold on the school and on osteopathy. I didn't apply to any other medical school," she said.
After graduating from WVSOM, she completed her internship at West Virginia University's Charleston Area Medical Center, and her family practice residency at the University of New England College of Osteopathic Medicine in Maine. After Krawiec passed her board exams, she worked in family practice and urgent care in and around Portland, Maine, for several years before joining the U.S. State Department in 2011 as a regional medical officer (RMO), a foreign service job. As RMO, she was assigned to a post overseas and covered several embassies within a region, treating Americans assigned to the embassy, as well as their family members. She traveled a lot, and worked with local nurses, doctors, and State Department nurse practitioners, and physician assistants. Her first assignment was in New Delhi, India, for two and a half years. She returned to Washington, D.C. for three years working in State Department's Bureau of Medical Services, then worked for four years as RMO in Warsaw, Poland, where she met her husband, Lukasz (pronounced Wu-kosh). In 2021, she returned to D.C. where she worked until she came to VMI in April.
Krawiec believes securing the job at VMI was serendipity. She and Sarah were on post last September, attending a reception to celebrate the 25th anniversary of women matriculants. "We were talking with General Wins, and Sarah asked jokingly, 'Do you ever hire doctors?' General Wins responded, 'Well as a matter of fact, Doc Copeland is retiring.' Everyone looked at me. I told General Wins that I was very interested." The next week she got a call from Brig. Gen. Dallas Clark '99, deputy superintendent, to discuss the job.
Though she said it was a big decision to leave the State Department and move to a new location, she is thrilled to be back at VMI. "I want to do the best I can for VMI, because they've done a lot for me."
Krawiec said it is helpful that she has first-hand knowledge of what it is like to be a rat and a cadet. "I know how it feels not to be well enough to participate in all the activities, and how eager the cadets are to feel better so they can get back at it, just as much as we want them to. We have an incredible staff who understands the demands put on these students, and Doc Copeland was so helpful with the transition, and a great example to follow," she said.
She said VMI is a much better place now than when she was a cadet. "It's a much more normal thing to be a woman at VMI, and that is a blessing for these women. They really shine, and work very hard. I am very proud of VMI's integration of women."
Gussie Lord '01, member of VMI's Board of Visitors and Krawiec's BR, is gratified to see her friend take on the role of Institute physician. "I know she will do a wonderful job taking care of the Corps and we are lucky to have her," she said.
Krawiec wants to get more involved with the cadets outside the infirmary, and is interested in learning more about the EMT program on post and finding ways she can help. She continues to have relationships with her former biology and physics professors, and hopes to become more involved in supporting cadets through that network.
Although she and her husband were married in March at the courthouse, they will have a formal, intimate wedding at her parents' home in West Virginia.
"We'll have a ceremony in the woods with friends and family."
Following the ceremony, they will take a trip to New York City and Washington, D.C. before returning to Lexington where they live with Ziggy, their rescue cat.
Marianne Hause
Communications & Marketing
VIRGINIA MILITARY INSTITUTE