VMI Welcomes New Pipe Band Director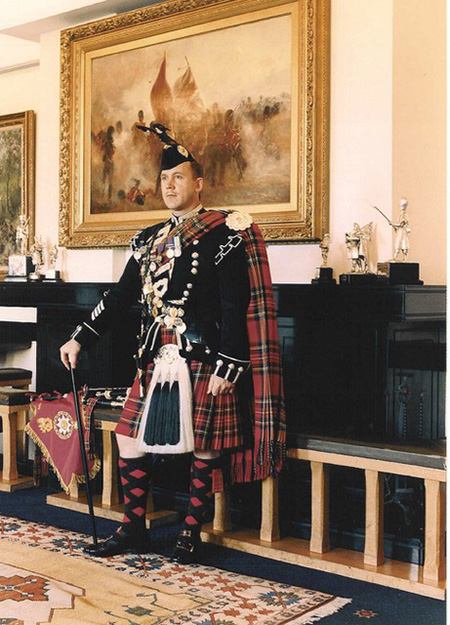 LEXINGTON, Va., Oct. 3, 2022—They can be heard from miles away. Originally, they were instruments of war, designed to inspire soldiers into battle. In modern times, they instill pride, honor, dignity, and delight when heard during pageantry, and feelings of tenderness and warmth during memorials, often evoking tears, especially when the hymn "Amazing Grace" is played. They are bagpipes, national musical instrument of Scotland.
In Lexington, the Virginia Military Institute Pipe Band not only instills pride in the Corps of Cadets, but to everyone who hears and sees them in post parades and in community holiday parades. The Pipe Band, which serves as musical ambassadors throughout the United States, has recently added Scottish authenticity to its ranks in the form of its new director, Maj. Brian Donaldson.
Donaldson is originally from Cardenden in Fife, a small mining village in Scotland. When he was growing up, each local mine, or colliery, had its own pipes and drums corps, providing a spirit of community and kinship. The corps were supported by the miners who each contributed one penny of each week's wages. Both Donaldson's father and grandfather were miners. His father, himself a renowned bagpiper and teacher, taught Donaldson to play.
After graduating from high school, Donaldson served his apprenticeship at Inveran House, a bagpipe maker at Edinburgh, the capital city of Scotland. "I commuted 45 miles one-way every day by train to Edinburgh from my hometown. I left home at 6 a.m. and didn't get back until 7 p.m.," said Donaldson.
At a young age Donaldson played with the world-famous Dysart and Dundonald Pipe Band, winning every major championship in the pipe band world. Later, he enlisted in the Scots Guards, whose primary duty is to guard the British monarch, and served with the regiment all over the world. He passed his pipe majors course at the Army School of Piping at Edinburgh Castle in 1982. He soldiered in the Falklands War and served tours of duty in Northern Ireland during the height of the unrest. Later, he was posted to the Army School of Piping as an instructor for three years. He was subsequently promoted to pipe sergeant in 1993, then to the pipe major, the leading musician in a bagpipe band, in 1995. "I played many times for her majesty, Queen Elizabeth II, at Balmoral Castle and in her birthday parades, called the Trooping of the Colour. I had opportunities to dance with her and with Princess Diana as well," reminisced Donaldson.
In 1998, Donaldson became pipe major at the Army training regiment in Glencourse, Scotland. He served out his 22-year military career teaching at the Army School of Bagpipe Music and Highland Drumming in Edinburgh, Scotland.
Donaldson became one of the most renowned pipers in the British Army. He has earned many awards in multiple competitions including the Highland Society of London's Gold Medal, the most coveted award in piping; the Bratach Gorm, the highest prize given by the Scottish Piping Society of London; and the Donald MacDonald Quaich. He has been invited numerous times to the famous Glenfiddich Piping Championships at Blair Castle in Pirthshire, Scotland.
After a successful military career, Donaldson returned to his trade as a bagpipe craftsman. He purchased the company where he apprenticed and changed its name to Inveran Bagpipe Makers. "To me, the name Inveran House sounded like a hotel," he quipped.
In 2012, he was offered a position teaching at St. John's Northwestern Military Academy in Delafield, Wisconsin, where he taught for seven years. He taught at Missouri Military Academy in Mexico, Missouri for two years before accepting the position of director of the pipes and drums at VMI. "VMI is a first-class school, very impressive," he stated. "I want to capitalize on the fantastic job my predecessor did and take the pipe band to the next level. I want them to be the best. I want to take the band to competitions and have them compete as a band as well as individual players. Competing is the best way to reach a higher level," he said.
Col. John Brodie, director of music at VMI, believes Donaldson has already had an impact on the Pipe Band. "I look forward to working with him in the years ahead. I also hope he can teach me the pipes. I tried one-time years ago to learn but it was very difficult," he said.
Donaldson lives in Lexington. He has a son living in Australia, and a son and two daughters as well as six grandchildren still living in Scotland.
Marianne Hause
Communications & Marketing
VIRGINIA MILITARY INSTITUTE