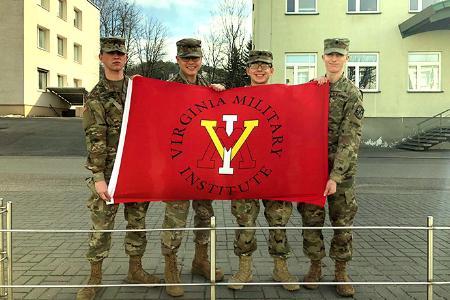 As the coronavirus pandemic spread around the globe in March, with new waves of both infections and closures being announced daily, the two-person staff-- Col. Dave Hall, director, and Patricia Hardin, assistant director--of VMI's Office of International Programs found themselves responding. They had a front-row seat to the dramatic changes in regulations outside of Lexington, Va.
This spring, 35 cadets were on study-abroad programs when the pandemic hit. By March 23, all had safely returned to the United States. At first, it wasn't clear that they were going to have to leave their host country—and many didn't want to leave until they absolutely had to.
On March 19, the U.S. Department of State issued a Level 4 travel advisory for the entire globe in response to the coronavirus pandemic, stating: "In countries where commercial departure options remain available, U.S. citizens who live in the United States should arrange for an immediate return to the United States, unless they are prepared to remain abroad for an indefinite period."
Hall and Hardin swung into action. "We needed to recall all cadets who were studying abroad," said Hall. He added that international travel at VMI is governed by General Order 73, which states that international travel is banned when the State Department issues a Level 3 or higher advisory.
Turner Leigh '22 had a particularly harrowing experience getting home from Cairo, Egypt. When the Level 4 travel advisory was issued, Leigh inquired about getting a flight home but was told that the Cairo airport was closed.
Hardin tried to verify this information. She finally got word that seats were available on a flight out of Cairo the next day, albeit at a steep price. Hardin emailed Leigh to say, "Book that flight now."
"So, on the flip of a dime I packed my bags, cleaned my apartment, called my landlady to let her know I was leaving, and caught an Uber to the airport, all the while praying that the flight was legit," Leigh wrote in an email. He was home after a 26-hour, 3-flight trip.
Also, as the spring 2020 semester began, there were 36 international cadets enrolled at VMI. By the end of the first week of April, all but three had returned to their home countries.
When spring furlough began on Thursday, March 12, all cadets, including international students, departed post for various destinations. The next day, an email came out announcing that the Institute would move its classes online through April 17---a date that was later extended to include the entirety of the semester.
A decision was made to let international students move back into barracks if need be since many would otherwise have nowhere to go once the furlough ended. On March 22, approximately 14 international students arrived back on post, where they were screened by Dr. David Copeland, Institute physician, before being allowed to move back into barracks, two to a room.
Keeping tabs on the cadets in terms of mental health and day-to-day needs has been Patricia Hardin, assistant director of international programs. Over the spring furlough, Hardin stepped in to help an exchange cadet from Lithuania with a tricky journey of making it back to VMI from Florida.
Over the last 10 days of March, most of the international cadets booked flights home, including Thailand native Patiphan Kaeosanit '20. In the end, three remained: two from Lithuania and one from mainland China. By the first weekend in April, they had moved into Moody Hall, which has kitchen facilities, and Hall and Hardin were prepared to help them get groceries as needed.
It was very important to me, and I felt that it was my responsibility, to make sure that each [cadet] came home," said Hardin.
With the State Department's Level 4 travel advisory in effect until further notice, VMI has canceled all summer study-abroad programs, and it is unknown when study abroad will resume.
- By Mary Price