'Focus on What is Best for Cadets': Faculty Adapt to Distance Learning Environment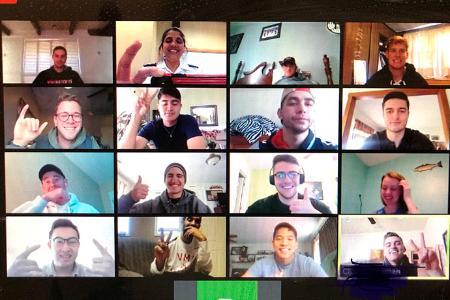 When cadets returned to post from Christmas furlough in mid-January, no one could have anticipated that in just eight short weeks, the Corps would be away from post for the longest time since the Civil War, and the Institute would be holding classes exclusively online for the first time in history.
Taking a lead role in managing the transition to distance learning has been Brig. Gen. Robert "Bob" Moreschi, deputy superintendent for academics and dean of the faculty.
"About a week and a half ago, we had to figure out how to deliver the rest of the semester in a rigorous way," said Moreschi on March 26. Immediately, he knew he'd need to prepare faculty to teach in an entirely new way.
"The vast majority had never taught in a distance learning environment," he commented.
Knowing that cadets not coming back to post after the spring furlough was a very real possibility, Moreschi asked department heads on March 11 to prepare for a possible transition to online learning and report back by March 20 how they would do so. He stressed, though, that faculty were given much flexibility in their methodology.
"You have the freedom to figure out how to deliver the course material" was central to the message that went out from the dean's office. In support of this initiative, Moreschi authorized the purchase of webcams and internet hotspots for faculty that needed them.
"Those things are as hard to find as toilet paper and paper towels," he said of the hotspots.
While some colleges and universities have elected to make their classes pass/fail for this semester, VMI deliberately chose not to take this option. Moreschi and others made this decision with the awareness that some graduate schools, especially medical schools, won't give credit for a pass/fail class.
"We had collectively decided not to do that," said Moreschi. "It goes against what VMI is. … We were more comfortable staying with the letter grades."
Faculty, meanwhile, have adapted well to the challenges and opportunities that distance learning provides. Given the choice to teach either synchronously--in real-time--or asynchronously, with professors recording lectures that can be watched later—most faculty members chose to teach asynchronously.
"Most of us in engineering realized that we would have to provide most of our materials asynchronously," said Col. Charles "Chuck" Newhouse, professor of civil and environmental engineering. "But we did see the value of meeting face to face with cadets. This has started a tremendous Ford-Chevy debate between two meeting programs, Zoom and Microsoft Teams. I've been able to use both of them, and there are, like Fords and Chevys, pros and cons of each."
Not surprisingly, Newhouse and his colleagues have had to work hard to figure out ways to move lab courses online. "For the labs, it is also best for the cadets to actually experience doing the lab assignments," said Newhouse. "Sometimes the most important thing that they learn is when the experiment doesn't go as planned."
But since that's not possible this spring, civil engineering professors have been performing the labs and uploading them for the cadets to watch. Then, the cadets write up lab reports just as they would if they'd done the lab themselves.
Like Newhouse, Maj. Kevin Braun, assistant professor of chemistry, is trying to adapt hands-on classes to a virtual environment. This semester, he's teaching three classes, all of which have a laboratory focus.
"Lab is such a unique space," Braun commented. "Lab allows us to bridge the gap between theory and practice."
To make the most of the distance learning situation, Braun is teaching via "dry labs." To do a dry lab, students are given the raw data they would have acquired if they'd done the lab themselves, and then they use that data to write a lab report. And while Braun can't be in the same room with his cadets, he's tried to draw them together via the meetings function in Microsoft Teams.
"They find it useful to have that visual connection," he said. "That interface has been really nice."
Economics, of course, has seemingly little in common with either civil engineering or chemistry—but in all three disciplines, being able to see what you're doing is vital. Col. Tinni Sen, professor of economics and business, has chosen to teach her three sections of intermediate macroeconomics in real-time. She explained that the class, which is heavily based on graphing economic variables, works best when cadets can see her as she's teaching. "It has to be very interactive," she commented.
But Sen doesn't have to worry about attendance, even when the class is virtual. "This is VMI. They'll come to class. Our cadets are really good kids."
But because she's teaching synchronously, Sen has had to make some adjustments. On the first day of class, Sen noticed a cadet in her 9 a.m. section who looked less than alert. When she asked him what was wrong, he replied, "Colonel Sen, it's 6 a.m. here." Sen very quickly told the cadet, a resident of California, that he would be welcome to join her 1 p.m. class.
Having taught online before, Maj. Michelle Iten, assistant professor of English, rhetoric, and humanistic studies, is well aware that what looks clear from her point of view isn't necessarily so for someone else.
"Probably the most challenging thing is trying to keep in mind how cadets will navigate the course, to imagine how the pacing and engagement will go from their perspective," said Iten a few days after online classes began March 25. "I've been trying to anticipate places of potential confusion and get ahead of them, but I'll only know how I did as we go forward."
Col. Howard Sanborn, professor of international studies, also observed a focus on meeting cadet needs during the transition to distance learning.
"What has come across to me, in working with several professors across multiple disciplines, is that we have a tremendous faculty that is working hard to attend to the intellectual and physical well-being of our cadets," he stated. "It turns out when you focus on what is best for cadets, a lot of hard decisions become much easier to make."
Moreschi agreed that in a time of crisis, the faculty have risen to the occasion.
"It's really the faculty that have been the creative energy," the dean stated. "People have taken a can-do attitude."
- By Mary Price