A moment of leadership leads to a spark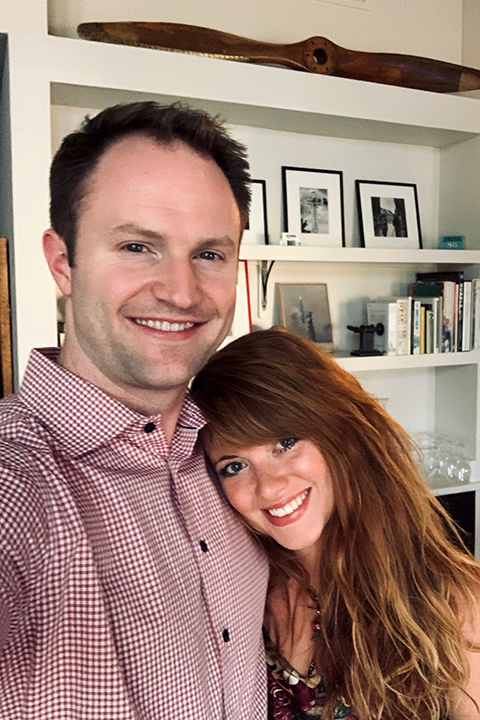 LEXINGTON, Va., August 26, 2020 -- United States Space Force Captain Even Rogers '10 typically flies from Colorado to Arizona when visiting his family, but the small plane he has was in the shop. Isn't that how all stories of fate begin?
Rogers was visiting his mother and stepfather in April of this year as his stepfather battled the challenges of colon cancer. Because he drove, he was able to take his mountain bike. The trails in Sedona offered plenty of adventure and sometimes he'd stray from his usual course, which is exactly what he did on April 17.
Sydney Linden was on the same path, as she ran the Adobe Jack Trail frequently, but one wrong step caused Sydney to fall, fracturing her tibial plateau. She called a friend to help, but she was more than a half-mile into the trail. As Even rounded a turn and saw her, she hinted that something was wrong. "I had sense immediately that, if I stopped, I was in it for the long haul," Rogers shared. "As we had small talk, I was working out a plan in my head. Between Army ROTC and Rat Challenge, I knew exactly what to do." As he learned in his training with fellow cadets, he lifted her and carried her just over a half-mile using the fireman's carry.
With rough terrain, Rogers was concentrating on getting Linden down the trail as safely as possible. Small talk continued, which comforted Linden and took her mind off her injury, but once at the base of the trail, the realization of her injury hit. She was crying as her friend arrived to get her to the hospital. There was no good moment for an exchange of contact information, so Rogers and Linden parted ways – Linden to medical care and Rogers back up the trail to get his bike.
This story could have ended at the foot of the trail, but a text from Rogers' mom changed everything about two weeks later. Linden had been interviewed for an article in the Sedona Red Rock News looking for her "trail angel." She only knew his first name and that he was in the Air Force. Rogers' mom learned about the article from a friend and sent him a photo of the article. He emailed the writer of the story who then passed along Linden's phone number. Phone tag, followed by hours-long phone and Zoom calls, and then several dates have led to a blossoming relationship that only the Hallmark Channel could've predicted.
Besides being excited about spending time with Linden as much as he can in their long-distance relationship, Rogers reflects on the moments on the trail and his time at VMI. "There are habits of mind that I developed at VMI. I learned how to learn, and how to think. I started to develop an intuition for when a moment is asking for something, so to speak. These skills have served me throughout my career."
Rogers visited VMI in high school during a leadership program that brought him from Colorado to Virginia. They visited Washington & Lee University and attended a parade at VMI. "I fell in love with the place," he says.
Since graduating with an English degree and a minor in writing, he joined the Air Force through Officer Training School and is weeks away from earning his Master of Arts in Social Sciences from the University of Chicago. He is a graduate of the United States Air Force Weapons School and will transfer to the United States Space Force in a few weeks, where he will continue his work on the Operational Test and Evaluation of Space Force spacecraft.
Rogers feels lucky to have been able to explore such a wide array of opportunities, but maybe one line on his resume should simply read "Trail Angel."
Maj. Michelle Ellwood
Communications and Marketing
VIRGINIA MILITARY INSTITUTE