Pegg Named Commander of National Guard Unit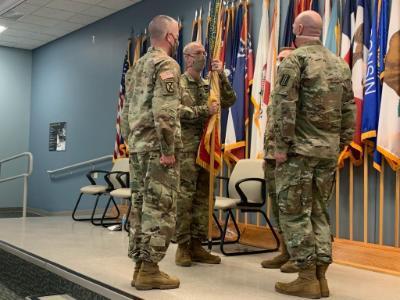 LEXINGTON, Va., Aug. 24, 2020—Each August, Lt. Col. Todd Pegg '92 goes from busy to busier. As deputy commandant for operations, Pegg is responsible for creating the elaborate matrixes of schedules that govern rat and cadre activities during Matriculation Week—a task made much harder this year by COVID-19 and the need for social distancing.
And this year, Pegg added a new level of responsibility to his already full plate when he assumed duties as commander of the Virginia National Guard's 329th regional support group, headquartered in Virginia Beach, Virginia. In that role, he'll be responsible for more than 1,900 Guard soldiers across the state.
"It's the unit that really deploys the most in the Virginia Guard, and is very, very active," said Pegg, who entered the Guard as a cadet through the Simultaneous Membership Program (SMP), which allows cadets to both participate in Army ROTC and drill with the Guard on weekends.
In 1992 he won the Jackson-Hope Medal, which is awarded each year to cadets who graduate at the top of their class. After graduating with a degree in mechanical engineering, Pegg commissioned into the Guard.
"That way I could pursue my civilian engineering career and still be in the military," explained Pegg.
Over the course of his 28-year career with the Guard, Pegg has deployed four times, three of them to combat zones. He's served in Afghanistan, Iraq, and Kuwait—and the fourth time, Pegg's unit was headed to Iraq when they got word to report to Fort Lee, near Richmond, instead.
Pegg doesn't know how long he'll be commander, but he said assignments typically last about two years.
"It'll be my last assignment," he noted, adding that his mandatory retirement from the Guard will come in November 2022.
In a change of command ceremony held Aug. 19, Brig. Gen. K. Weedon Gallagher '90, land component commander of the Virginia National Guard, praised Pegg's leadership, saying, "You all know the kind of leader you're getting, the kind of strategic thinker you're getting … [Pegg] doesn't shy away from challenging and complex duty assignments. He tends to go after them."
For his part, Pegg said he's looking forward to "really being at a level where I can work on building and influencing a team with impacts that go farther beyond just the time I'm there. There's good training and working with leaders and soldiers who figure things out and develop skills and learn lessons—and that lasts longer than a command tour does."
There's good synergy, he added, between his job in the commandant's office at VMI and his service in the Guard. "The things I do in uniform for the Guard partner really well with the things I do in uniform on the commandant's staff, so I not only have really good employer support of my service, but VMI also benefits from those experiences, skills, training, and other things like that," said Pegg.
Being commander, of course, means a daily level of responsibility—typically, there are a few hours of computer time each evening in addition to trips to Virginia Beach, which take place at least once a month. Pegg, though, is more than willing to put in the hours, knowing that a commander's time of service is typically short.
"When things go well and you're surrounded by the right people, you have an influence that long outlasts that," he said.
Mary Price
Communications and Marketing
VIRGINIA MILITARY INSTITUTE