Vice President of the United States Visits VMI Cadets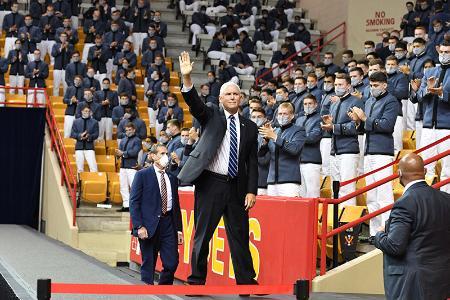 On September 10th, 2020, VMI welcomed the Vice President of the United States Michael R. Pence with Secretary of the Army Ryan McCarthy '96 and U.S. Rep. Michael Waltz '96. Air Force ROTC cadets were able to hear from the Vice President when he flew in on Thursday.
The Superintendent of VMI, General J. H. Binford Peay, commented on the visit saying, "VMI is fortunate to be able to attract such prominent speakers to provide our Corps of Cadets an opportunity to learn from their leadership" (Price). Indeed, being exposed to such prominent leadership gives cadets a great opportunity and helps them maximize their college experience. By hearing from leaders of such high standing, cadets are able to absorb information and learn invaluable lessons.
The Superintendent went on to say, "Both Vice President Pence and, VMI's own, Secretary McCarthy have many experiences upon which to draw in imparting their wisdom and contributing to our mission of forming citizen soldiers. We are grateful for their willingness to visit with us".
The visit had been in the works for more than twelve months, but complications arose due to COVID-19. Adapting to the new safety guidelines, VMI required masks for all attendees, seating was arranged to account for social distancing, and the event was closed to the public. After his speech, Vice President Pence met with six cadets from Indiana, which is his home state.
A total of four Presidents of the United States have visited VMI. Truly, only Lyndon B. Johnson and George W. Bush visited VMI while they were in office. This visit marked only the second time a Vice President had traveled to VMI. Vice President Cheney spoke at VMI in the winter of 2008.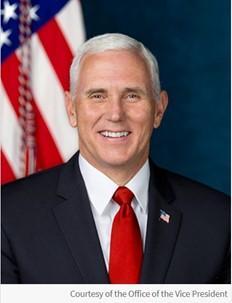 In the speech, Pence noted the accomplishments of past VMI graduates and leaders praising them and the Institute. He commended VMI for its commitment to producing leaders mentioning past leaders such as Jonathan M. Daniels '61 and Gen. George C. Marshall, VMI Class of 1901. The Vice President reported, "For 181 years, this institution has been training up citizen-soldiers, who are educated, confident, capable leaders who have a love of learning and a high sense of public service".
The Vice President was careful to mention the 19th anniversary of Sept. 11, 2001, where terrorists attacked the United States killing 3,000 Americans, including two VMI alumni. He described how countless Americans went on to serve in the war on terrorism following Sept. 11, 2001. He noted that 12 Institute alumni died the war.
He finished his speech giving advice to the cadets. He listed the qualities needed for success such as humility, an orientation to authority, and self-control. Furthermore, he went on to tell the cadets to consider others more important than themselves, respect the chain of command, and focus on discipline as the foundation of self-control.
Shortly after his meeting with cadets, Pence and McCarthy toured the George C. Marshall Museum. After their tour, they departed in an MV-22 Osprey while cadets watched and waved goodbye from Moody Hall.
Cadet Kristi Walsh
Air Force ROTC Detachment 880
VWIL, Mary Baldwin University '22
VMI News Story References:
Pence Praises Honor, Military Service in Speech at VMI
VMI to welcome Vice President Pence, Army Secretary