VMI Air Force ROTC Attends Air and Space Force Conference
LEXINGTON, Va. Sept. 27, 2023 — Thirteen VMI Air Force ROTC cadre and cadets attended the Air and Space Force's Association (AFA) 2023 Air, Space & Cyber Conference held Sept. 11 through 13 in National Harbor, Maryland.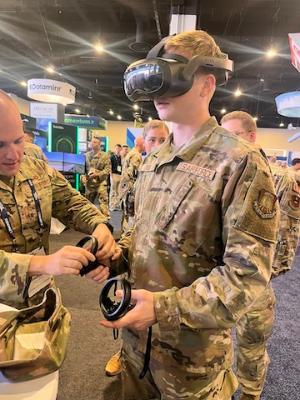 The conference provided first-class professional military development, facilitated the sharing of emerging requirements and technologies, and provided connections to advance the cause of air and space power.
The theme of this year's conference was "Defeating Multipolar Threats: A Strategic Imperative for Airmen & Guardians."
Those in attendance were offered nearly 50 sessions, which included addresses from senior leaders across the Air Force, Space Force, and aerospace industry as well as discussions on building the warfighting mindset, cyber warfare, accelerating readiness for great power competition, leading with honor, and multiple other Air and Space Force topics.
Reese Lassiter '26 said he enjoyed seeing how much tech was being utilized in the last year — either theoretical or in development and had been sent out to different military installations.
"One of the biggest takeaways I got from the AFA trip was how involved with augmented reality (AR) the Air Force is," he said. "For example, AR is now being utilized in pilot training to simulate dogfights, flight mechanics to help train them for infrequent repair, and certifications without needing to be on an actual aircraft."
"I had a great experience," Elena Gutierrez '25 said. "The speakers were interesting and covered a broad base of key topics that allowed for further discussion and investigation afterward. In addition to the keynote, listening to the Vietnam veterans was an incredibly rewarding experience."
Laura Peters Shapiro
Communications & Marketing
VIRGINIA MILITARY INSTITUTE