'An Engaging and Exciting Middle Ground': English Fieldwork Partners Cadets with Student Writers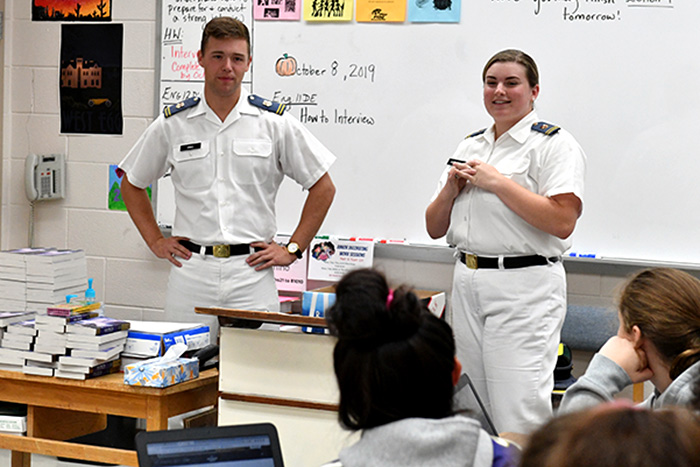 LEXINGTON, Va., Nov. 13, 2019—This fall, two cadets majoring in English have found themselves in an unlikely place—back in high school.
Grace McDonald '21 and Kirk Ring '21 are making weekly trips to Rockbridge County High School, where they assist Annie Knepper, chair of the RCHS English department, with marketing, publicity, and tutoring support at the school's fledgling writing center. Their work at RCHS fulfills the fieldwork requirement for the VMI English major.
Fieldwork, a concept borrowed from the sciences is meant to provide an applied learning experience, has been part of the curriculum in VMI's English department since the department rolled out a new curriculum in the fall of 2013. Over the years, cadets have participated in many projects, including designing a new website for the Friends of the Chessie Trail and creating a community memoir with input from residents from a local retirement community and students at a local middle school.
The partnership with RCHS, though, is new this year. It is part of a larger effort to move fieldwork away from a service-learning emphasis and toward community-based learning, which includes community members as partners.
"Community-based learning moves beyond a service approach to allow for cadets to not only apply their learning in ERHS outside the classroom but also collaboratively engage and learn with expert partners through community internships and projects for a variety of social purposes," explained Maj. Stephanie Hodde, assistant professor of English, who serves as fieldwork coordinator for the department.
On a smaller scale, McDonald and Ring are learning how to support learners who seek help with their writing.
"This is introducing them to the theory and practice of working with student writers," explained Col. Christina McDonald, professor of English, who is supervising the cadets' work.
Grace McDonald, herself a 2017 graduate of RCHS, sees her work there as a way of giving back to her alma mater. "I thought it was a really good way to give back to the school that I attended, and I knew it was a good way to improve the experience of the students," she commented.
Ring, who helped to start a writing center at his high school in Smithfield, Virginia, said he chose to come to RCHS because he enjoys the type of interaction that working in a writing center provides. "It sounded very interesting because it's really fun helping others with writing," he commented.
The RCHS writing center, though, doesn't see much traffic—so Grace McDonald and Ring have been working to find out why. They've developed and administered a survey asking students what they know about the writing center, and they've also developed some promotional materials to spread awareness so usage of the center might increase.
"It's been wonderful for Grace and Kirk to come in through their fieldwork," said Knepper. "They're able to do some of the work for us as far as marketing and surveying students to see what they need."
The small age gap between the cadets and high school students doesn't hurt, either—nor does the natural curiosity that high schoolers have about college life. "That's an engaging and exciting middle ground between peer and expert," said Knepper.
Fieldwork such as this, Christina McDonald noted, fits well with VMI's mission of creating citizen-soldiers.
"Part of the experience in the English major is to make a connection between the classroom and the community, and that's what fieldwork does," she stated.
This spring, Hodde has more ambitious plans to link cadets with K-12 learners. Working with teachers and administrators from Rockbridge County Public Schools, she's developing a course in expeditionary learning and teaching, in which cadets will partner with teachers to develop and implement a project-based learning initiative in that teacher's classroom.
The course in expeditionary learning and teaching will be open to cadets of any major, to encourage cross-disciplinary learning.
"Fieldwork can be a gateway to interdisciplinary work in other majors," Hodde stated.
Christina McDonald noted that since the English major was restructured with an emphasis on applied learning, interest in the department has increased substantially. In May of 2013, just before the introduction of the new curriculum, the department had 43 majors; by May 2019, that number had grown to 63.
- By Mary Price