Cadet Successfully Completes Army Airborne School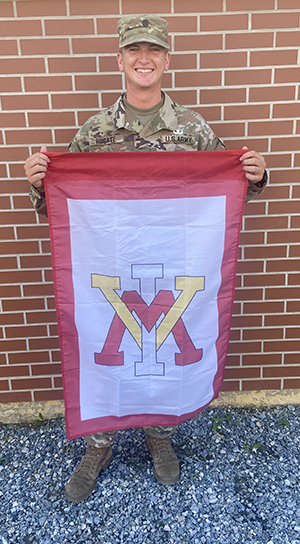 LEXINGTON, Va., Sept. 27, 2022—"I've always been interested in being a paratrooper in the U.S. Army, so when I got selected for Airborne School I jumped at the opportunity."
Carter Hugate '24, a civil engineering major from Chesterfield, Virginia, is the second cadet to qualify for and successfully complete the Army Airborne School in Fort Benning, Georgia. This past February, contracted Army cadets participated in a 12-mile ruck to qualify for one of the Army school slots open to them. Ranked on ruck time and their GPA, available slots were filled on a first come first served basis. "We got chosen based on our 12-mile ruck times, grades, and PT scores," stated Hugate. Army Airborne School, widely known as jump school, is a three-week program for basic paratrooper (military parachutist) training.
"It was the coolest thing I have ever done. However, the rush of jumping out of a C-130 and C-17 aircraft pretty much ruined roller coasters for me. Training was long and tedious, and especially in the Georgia heat in the middle of August, but once I got to jump week, my training took over and I enjoyed the ride. I've never been afraid of heights, but the feeling of standing up and walking up to that open door at 1300 feet in the air, with the feeling that the air wants to rip you out of the plane, is a fear that awakened inside me. Few people will get that experience. Going from jumping out and feeling the blast from the propellers, to hearing your parachute deploy, to just floating in complete peace and silence to the ground is one of the most surreal experiences I've ever had. I am very proud of myself for graduating and getting my wings," Hugate answered when asked about his experience in August.
Hugate was awarded an Army ROTC scholarship in high school and chose VMI for multiple reasons. "I loved the military feel and brotherhood at VMI when I visited. Plus, I knew my dyke, John Duncan '21, very well before even applying to VMI." As for joining the U.S. Army, Hugate had made that decision as a young child. "My dad is a police officer, my mom is a teacher, and my sister is a physician's assistant, so I've been raised in a family that sacrifices a lot to help people, making my decision to join the Army a whole lot easier." Once Hugate graduates and commissions, his goal is to become a combat engineer. At VMI, Hugate is currently a regimental S-6 sergeant, and part of the VMI combat shooting team.
Story and photo courtesy of Carter Hugate '24
VIRGINIA MILITARY INSTITUTE