Cadets Conquer Challenges During 2022 Spring Field Training Exercises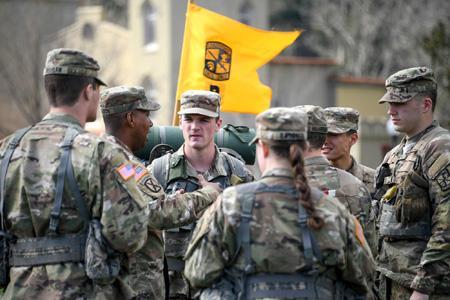 LEXINGTON, Va., May 17, 2022—Cadets across ROTC branches conquered many challenges on and off post during 2022 spring field training exercises (FTX).
Air Force ROTC cadets capped off their spring field training exercises 70 feet in the air on the high ropes course in the Corps Physical Training Facility, where they braved the heights on both individual and team obstacles under the supervision of cadet facilitators.
Army ROTC traveled to McKethan Park and Goshen for exercises and trainings. 4th Class cadets rucked to McKethan, learned military skills, and practiced land navigation. Upper class cadets improved their tactical proficiency by planning and executing drills.
Non-commissioning cadets tackled community projects throughout Rockbridge County, including mulching, painting, pulling weeds, clearing debris, and constructing a building's foundation at locations such as Hull's Drive-In, Rockbridge Area Habitat for Humanity, Waddell Elementary School's Roots and Shoots Garden, Rockbridge SPCA, Lime Kiln Theater, and Grace Bible Camp.
Naval ROTC Marine Company conducted exercises on the Leadership Reaction Course on north post, and on a local farm, where they camped, practiced land navigation, trained for the Small Unit Leadership Evaluation at Marine OCS, and heard from enlisted and officer personnel.

VMI's Coast Guard detachment held its first ever spring field training exercises, which began in style with the arrival of a U.S. Coast Guard HH-60 helicopter to post. Cadets traveled to Smith Mountain Lake and conducted aviation training, small boat training, and participated in safety and Homeland Security briefs.
VMI NROTC Navy Company camped at Smith Mountain Lake and conducted physical training, practiced safety with fire boats, and piloted pontoon boats.

Eric Moore
Communications & Marketing
VIRGINIA MILITARY INSTITUTE