Cadets Harness Skills and Academics for Competition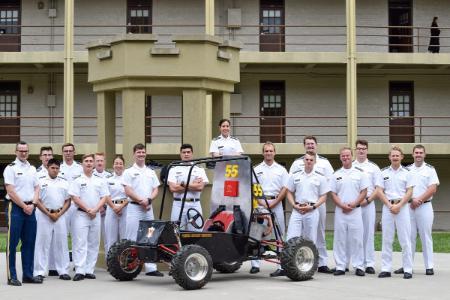 LEXINGTON, Va., May 13, 2022—A team of 26 mechanical engineering cadets recently competed in the Baja Society of Automotive Engineers (SAE) vehicle design competition at Tennessee Tech in Cookeville, Tennessee.
Mentored by Maj. Craig Altmann, who has a background in automotive engineering, cadets designed and built a single-seat, all-terrain sporting vehicle that will go head-to-head against vehicles built by approximately 100 teams from universities across the country and world. The VMI team consists of nine 1st Class cadets, five 2nd Class cadets, and 12 3rd Class cadets.
While building the vehicle, cadets followed a 130-page rule book that dictated a range of safety rules that the team had to follow when designing the car. Among them were the vehicle must be student-designed and built and must be powered using a 10-horsepower Briggs and Stratton engine that could not be modified. This year, the team performed engineering analysis on many aspects of their vehicle, including optimizing frame stiffness, suspension kinematics, and brake performance. The cadets also added an all-wheel-drive system in addition to optimizing and building more parts on the car themselves.
The competition is a multi-day event that starts with events covering knowledge of design, cost, and business presentations. Then, the vehicles are evaluated on performance in the second half of the competition through tests like acceleration, sled pull, maneuverability, suspension and traction, and endurance.
Eric Moore
Photos courtesy of Katherine Missar '22
Communications & Marketing
VIRGINIA MILITARY INSTITUTE