Cadets Participate in U.S. Air Force Academy Symposium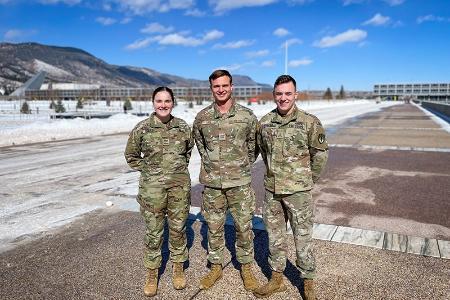 LEXINGTON, Va., Mar. 6, 2022—Kirsten Engel '22, Glen Lash '22, and Ryan Carpino '23 recently attended the U.S. Air Force Academy's 2022 National Character and Leadership Symposium in Colorado. The conference's theme this year was "Ethics and Respect for Human Dignity," and the event featured several keynote speakers and sessions. This trip was part of the VMI Center for Leadership and Ethics' Cadet Leadership Enrichment Opportunities program that sends cadets to leadership conferences throughout the country each year.

"NCLS was a great opportunity for us to meet and connect with other cadets from USAFA and colleges around the country who we'll have the privilege to serve with in the coming years," said Lash, who will be commissioning in the Air Force. "Also, it exposed us to powerful speakers, including Dr. Ben Carson and the Chief of Staff of the Air Force Gen. Charles Q. Brown, who discussed how leadership founded upon ethics and respect for human dignity is crucial to our country's future."

"My highlight from the week was connecting with USAFA cadets and hearing from a C-17 crew who worked in Operation Allied Refuge," Carpino said.

Engel, Lash, and Carpino were hosted by USAFA cadets in barracks for the event, which was "a great way to apply some of the lessons learned throughout the conference," Engel said.
Eric Moore
Communications and Marketing
VIRGINIA MILITARY INSTITUTE