Glee Club Takes Their Craft Abroad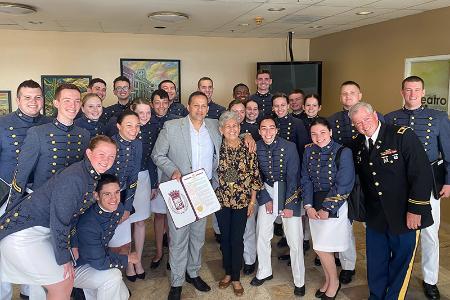 LEXINGTON, Va., Mar. 24, 2022—The
VMI Glee Club
represented the arts for the Institute and enjoyed beautiful weather in Puerto Rico over spring furlough. The group escaped a Virginia snowstorm when they departed from Roanoke Saturday, March 12, and within a day they were at the beach of Luquillo, Puerto Rico.
The Glee Club performed seven times in four days, including performances at the Conservatory of Music in San Juan, a Veterans Hospital in Juanna Diaz, at the residence of the Governor of Puerto Rico, and at the Puerto Rican Senate. Cadets also enjoyed a day of site seeing, visiting the El Yunke Rainforest, Old San Juan, and the beaches at Playa Del Mar and Luquillo.
The trip was led by Col. John Brodie, music director, who was grateful for the support of Roberto Gorbea '62, Lt. Col. Jose Plaza, Puerto Rican Army Reservists, and many others. Cadets billeted at Camp Santiago and spent 28 hours traveling the island in vans driven by Reservists.
"We had the opportunity to perform for the governor, senators, and the Mayor of Aguadilla as well as numerous veterans, ROTC cadets, and civilians all over the island," said Lauren Wolf '22, president of the Glee Club. "It was an amazing experience for us to travel to such a beautiful location to promote our music as well as the Institute."

Eric Moore
Photos courtesy of VMI Glee Club
Communications & Marketing
VIRGINIA MILITARY INSTITUTE