Civil Engineering in the Field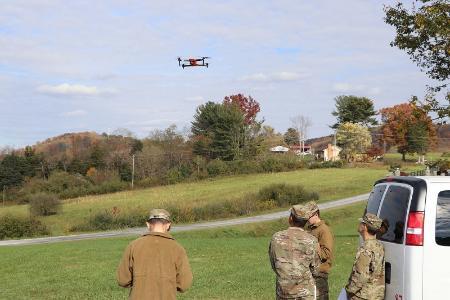 LEXINGTON, Va., December 2, 2021—Cadets taking Civil Engineering 121, Surveying, took a field trip to McKethan Park before Thanksgiving furlough to practice flying Unmanned Aerial Vehicles (UAVs or "drones") used in surveying and mapping.
Led by Maj. Rodney "Buddy" Wilkins, assistant professor, and Steve Neas '77, the labs introduce entry-level civil engineering students to technology and techniques used in surveying.
"[Cadets] are introduced to a number of methods and instruments to measure distance, elevation, and angles in space," Wilkins said. "The objective of the Unmanned Aerial Vehicle module is to expose students to cutting edge technology with application in both civilian and military environments."
Cadets practiced creating models and maps from the data gained from the drones. Wilkins noted skills learned in the class are especially applicable to military careers, from reconnaissance to delivering offensive ordnance.
"Other applications for civil engineers include documenting progress on construction sites, topographical mapping, aerial surveying in challenging spaces, and even thermography," Wilkins explained.
Eric Moore
Communications & Marketing
VIRGINIA MILITARY INSTITUTE