Cadets Create Financial Report for Lexington Residents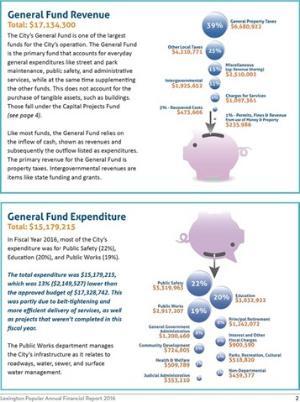 Many Lexington residents may pay their city taxes but not know exactly where that money is going. Two VMI cadets have taken on the challenge of translating the city's finances into an easy-to-read format for residents.
Jung Soo Lee '18 and David Zingaro '20 are planning to submit the current Popular Annual Financial Report to the city at the end of this semester. They're building off of the work Lee did last year on the PAFR, which started when Dr. Bing Jiang, assistant professor of economics and business and a member of VMI's community service board, began collaborating with Lexington City Manager Noah Simon. Simon told her that his department needed help creating a new type of financial report for residents.
"Since they didn't have the staff, it was a good opportunity for us to expose our cadets to that opportunity, also teaching principles of microeconomics," she said.
She proposed the idea of creating a PAFR for the city to one of her classes. Lee was the first to volunteer.
A PAFR is data extracted from a locality's annual financial report and used to produce a report that is easily understand- able for members of the general public, who might not have a background in public finance.
"It's good experience, a good resume builder … I'd hate the thought of leaving this place without having my name somewhere," Lee said.
Since this was the first project of its kind, Lee built last year's report from scratch, combing through hundreds of pages of city financial data and looking at other cities' reports.
He had to make sure the information conveyed was clear and understandable to the general public.
With help from the city manager, he was able to narrow the focus of the report to a few funds in the city budget and a major city project.
Last year, that project was a new Waddell Elementary School, which cost the city $14.2 million.
The city government was so impressed with that first report that Lee was awarded a mayor's appreciation award, which Jiang hopes will become an annual tradition.
Simon noted the report has helped the city government provide accessible and understandable information to the public.
"Originally, this information is published in the Comprehensive Annual Financial Report, CAFR, which is compiled in Excel and, while it is the 'meat and bones,' it doesn't provide much in the way of further explanation and could be considered difficult to understand for the general public," he said.
The feedback the city has received so far has been positive and they hope to promote the document in more communication out- lets this year, Simon said.
"I am a numbers guy, so I may get more excitement out of the CAFR than some, but the PAFR does bring a new perspective to the table that comes to mind when pre- paring the budget document in terms of supplemental charts and overall appear- ance," he said.
This time, the featured projects were infrastructure improvements and a subdivision off Greenhouse Road funded by a federal grant.
Lee and Zingaro recently submitted the final draft of this year's PAFR and are awaiting final details and notes from the city government. Jiang said the city's Finance Director Gary Swink already said their work was "exceptional."
Economics, as a major, is often focused on theories, models, and data, but it's important for students to have experience in the real world application of their studies.
"It's very practical, not just the textbook but [real] data from the city," she said. "It's a great way to showcase their ability outside the classroom."
This year, Lee began mentoring Zingaro on building the report because Lee will graduate this May.
The plan is to have Zingaro create the report alone next year and then mentor another cadet in his 1st Class year.
Jiang also asked Zingaro to keep track of his hours working on the project in hopes of turning the project into a future internship.
"I had never seen or heard of a PAFR. The more I heard about it, the more I wanted to learn," Zingaro said. "I think it's how a lot of citizens see how much they are paying in taxes and seeing what those dollars are doing."
Ashlie Walter
Communications and Marketing
Virginia Military Institute