The Paradigm Future of Business and Society's Second Annual Business Summit Stresses Innovation, Entrepreneurship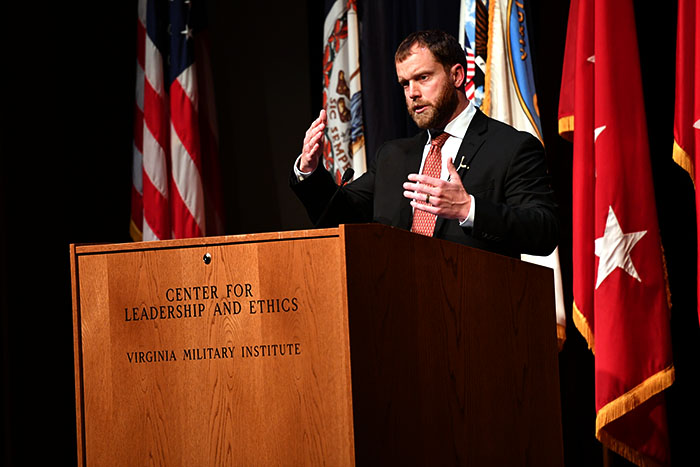 Now in its second year, VMI's Business Leadership Innovation Summit (BLIS) was held with the goal of spurring entrepreneurial thinking among cadets and connecting them with like-minded alumni already succeeding in the business world.
This year's summit attracted approximately 70 alumni, said Dr. Dekuwmini "Dee" Mornah, associate professor of business and economics. It also drew a good number of cadets, although fewer than last year because attendance by economics and business majors this year was optional, whereas last year it was mandatory.
But for those who came, the rewards were plentiful. "[Cadets] were getting internships and jobs everywhere," reported Mornah, who organized the summit along with an alumni steering committee headed by John Kemper '68.
Mornah also noted that of the 70 alumni who attended, approximately 90 percent attended BLIS last year.
"A 90 percent retention rate is great," he commented.
Keynote speaker Dr. Michael Morris kicked off the event Friday, April 12, with a speech designed to broaden attendees' thinking about entrepreneurship.
Morris, who was formerly the George and Lisa Etheridge professor of entrepreneurship at the University of Florida, shared the message that entrepreneurship is not just about starting a small business. Rather, entrepreneurship is a mindset that can be taught and cultivated, no matter what someone's age or employment status.
"The most creative people are the people who practice their creativity more," said Morris, who defined entrepreneurship as "the pursuit of opportunity regardless of resources controlled."
That evening, Sean Matson '05, a former Navy SEAL and founder of two small businesses, spoke about his experience as an entrepreneur as part of the John W. and Jane M. Roberts Institute Lecture in Free Enterprise series.
In his remarks, Matson stressed the intense focus it takes to get a business off the ground—a focus so great that it often demands giving up everything that's not essential to success.
"Streamline everything so you focus your efforts on your priorities," stated Matson, whose start-ups are Matbock, a military supply company, and Strike Force Beverage, a producer of energy drinks. "You have to quit everything that doesn't help you achieve those goals."
Matson also stressed that entrepreneurs don't necessarily have to have top-notch skills in all areas to be successful. "I'm not a smart person … but I know how to build a team," he stated.
On Saturday, April 13, a panel of VMI faculty and cadets from the departments of economics and business, mechanical engineering, and computer and information science convened to discuss how innovation and entrepreneurship are relevant to their fields of study.
Col. Clifford West, chair of the Department of Economics and Business, began by noting that for the past three years, cadets majoring in his department have been required to create a business plan as their 1st Class capstone project as a way of tying together the seemingly disparate components of their very broad discipline.
"We didn't begin this with the intent of having our students become entrepreneurs and start their own businesses," said West. "We didn't discourage it. And so far, in three years, we've had one new business get started … and we're hoping that that will accelerate as we go."
Like West, Col. Mohamed Eltoweissy, chair of the computer and information science department, said that the capstone project in his department is meant to orient cadet learning toward the real world. The CIS capstone requires cadets to develop a working prototype of a computer system.
"We have developed a program such that innovation and experiential learning resonates throughout our program," said Eltoweissy.
Col. Joseph Blandino, professor of mechanical engineering, stressed his department's need to prepare cadets for a post-college world in which they'll be competing for jobs with newly minted engineers from much larger schools.
"You want kids that understand that although you want to do cool projects and those are fun, at the end of the day, you're doing it to make somebody money or to make the process better, whether it's military or civilian," he commented. "Innovative projects and collaborations with businesses are natural ways we can distinguish our graduates."
Agreeing with Blandino was Bennett Johnson '19, an economics and business major who recently teamed with three other cadets to take third place in a business pitch competition.
"Innovation obviously is the paradigm future of business and society as a whole," said Johnson. "We think it's just so, so important going forward for both cadets and the departments to embrace the idea of innovation."
One of Johnson's teammates, Jon Chamberlain '19, a mechanical engineering major, also touted the benefits of cross-departmental collaborations and innovation.
"I learned so many things that a classroom setting couldn't give me, and it makes me a better person for it," he said of the cross-departmental capstone project that led to the business pitch competition.
VMI, Chamberlain concluded, "is the perfect environment to reach out, find your interests, do something you're passionate about, and pursue it."
- Mary Price