'Finding a Calling' Forum Shines Light on the Joy of Teaching From Two Alumni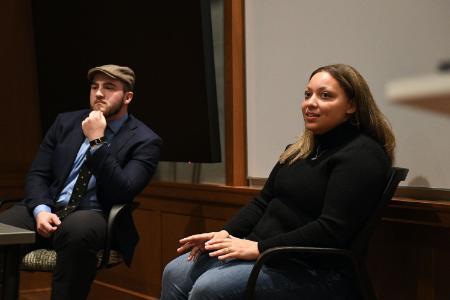 LEXINGTON, Va. Feb. 24 — Annika Tice always wanted to be a teacher. Spending time in her grandmother's classroom growing up, she would play pretend school with her siblings. The small act of pretending blossomed into her love for the selfless service of education and impacting generations to come.
"I hope to teach in order to build a foundation towards working in higher administration," she said. "I want to be a leader of change in our education systems."
Tice was one of two speakers for Virginia Military Institute's Department of English, Rhetoric, and Humanistic Studies (ERHS) Alumni Forum, "Finding a Calling" held Feb. 20 in Scott Shipp Hall. Tice, a 2019 VMI graduate, was joined by Joseph Murray, VMI Class of 2021, to speak to cadets on how they discovered the joy of teaching.
ERHS' forum showcased the discoveries and decisions of two English graduates, who found their major gave them flexible and enduring skills, and courage to discover callings in and out of the military, educating various populations. As Tice and Murray expressed, life after VMI can feel incredibly open with possibility, brimming with choices. The transition is exciting, but it can also overwhelm, unless one listens to and pursues what calls them.
In recent years, the ERHS department has invited English alumni back to share careers in the military, business, education, and communications. They discovered the best attended forums featured newer graduates who pursued diverse fields and callings. Continuing that success, their newest series, 'Finding A Calling' offers current students a glimpse of life after VMI in teaching, law and other fields. As forum co-planner Lt. Col. Mary "Polly" Stewart Atwell, associate professor in the Department of English, Rhetoric, and Humanistic Studies, notes, "VMI's enthusiastic and engaged alumni are one of the Institute's greatest resources. These forums give us the opportunity to showcase our department's strengths and connect current cadets with alumni in their fields."
Tice and Murray both discovered their interest in education through their forays in ERHS Fieldwork courses, and in their Honors Projects — Tice in language, educational theory and practice, and Murray in philosophy. They made, and continue to make their own success after VMI, offering current students not just career models, but an attitude towards shaping interesting paths that bring meaning, even reward surprises in their lives ahead.
Tice, who completed a Fulbright Teaching Assistantship teaching English in Africa's Ivory Coast, went on to four years active duty as an Adjutant General Officer for the Army at Fort Jackson, South Carolina, while completing a M.Ed from University of Virginia's Curry School of Education. This June she starts a teaching residency in California's High Desert region with Alder Graduate School of Education, which will earn her another M.A. to teach multiple subject disciplines in K-6.
She said it's important for cadets to hear from alumni in order to build a network between the VMI community — both past, present and future.
"To this day, VMI still impacts my life and literally has changed the course of my future for the better," she said. "I wouldn't be who I am today without the never-ending support and connections along the way."
While at VMI, Tice worked four on-post jobs, completed double Honors in English and French, and was the first woman to serve as an officer on the Honor Court. Tice chose VMI because she craved structure and discipline, but also saw it as a challenge. She hopes her discussion of her experiences, like the Fulbright, the Army, and VMI will help shed some light for cadets on charting a path after graduation.
"I am hoping to be candid and answer any questions that cadets may have. I am bringing my most vulnerable self," she said. "The truth is that I am no expert in my field, but I am a lifelong learner. I hope the audience can appreciate this message on life."
Murray graduated from VMI with a B.A. in English with concentrations in philosophy, literary studies, and writing and rhetoric. He served as Regimental Executive Officer of the Corps of Cadets, participating in the VMI Newman Club, and presented his honors thesis on Aristotelian and Thomistic philosophy. After graduating, he began working as a high school English teacher at Riverside Academy, a preparatory boarding school in Georgia. He is currently applying to doctoral programs in philosophy for next year.
"Every experience, from participating in the ratline to planning the ratline to presenting my honors thesis, was deeply formative," he said. "Aside from my work on the ratline and in barracks, the ERHS department at VMI influenced me deeply, and I would not have enjoyed my time at VMI nor embarked on the path I am on if it were not for the excellent curriculum provided to English majors. My professors in the ERHS department continue to inspire and guide me in my career."
Originally, Murray came to VMI seeking to commission in the Marine Corps, but ended up pursuing education and academia.
"Teaching was the logical next step for me, and it has been an extremely formative and rewarding experience," he said. "I highly recommend education as a field for cadets who desire to follow their love of learning and hone the skills of leadership and mentorship they learn at VMI."
He hopes his discussion on taking the road less traveled will inspire other cadets to explore their options outside of VMI, which are endless. "The education and experience at VMI is valuable for reasons other than military training", he said.
"The 'varied works of civil life' for which cadets are prepared — according to the VMI Mission — are not confined to a single profession or skillset, they represent the ocean of possibilities that are open to cadets as VMI men and women," he said. "Wherever they go, whether or not it involves military service, cadets are equipped with the tools to excel."
Maj. Stephanie L. Hodde, PhD
Assistant Professor, Department of English, Rhetoric, and Humanistic Studies
VIRGINIA MILITARY INSTITUTE
Laura Peters Shapiro
Communications & Marketing
VIRGINIA MILITARY INSTITUTE