The Extra Mile: Boxing Club
LEXINGTON, Va. March 7, 2023 — Aidan Simmons '23 wraps his hands in black wraps before shoving them into a pair of gloves and heads towards the bag. Taking several warm-up swings, his breath is timed out with every jab.
Simmons is one of the co-captains of Virginia Military Institute's Boxing Club.
After a hiatus due to COVID-19, the club — dubbed The Regulators — took to nationals last year sweeping the competition.
The club, which offers participants the chance to compete in a variety of competitions, took 14 athletes to the United States Intercollegiate Boxing Association (USIBA) National Championships in Atlanta, Georgia, in March 2022. Five cadets donned championship belts and seven cadets received individual all-American honors, ultimately winning the national championship and all-American honors overall.
"The fact that most of the team either got all-American status or national champion status is like a crazy feat … all the other teams were shocked," said co-captain Walter Elias-Perez '23. "The fact that we performed so well last year at nationals is really something only cadets could do. It was something that took a lot of time and discipline in order for us to actually get the results that we did."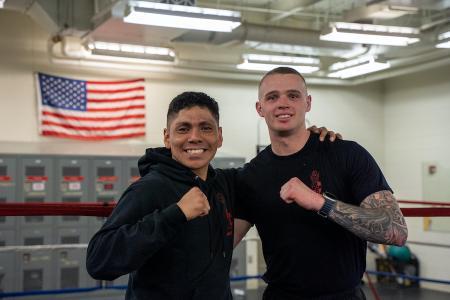 This year, they aim to do it again.
Coming off the high of winning, Elias-Perez and Simmons said they are amped for the competition, which VMI is hosting at the end of March.
Overcoming the club's pause for the 2019-2020 and 2020-2021 academic years due to the coronavirus pandemic, the program was revamped in the summer of 2021, Simmons said. During the club's break, coach Joe Shaffer also had to step back. By 2021, the team rallied to get him back and move forward. Shaffer coached a volunteer summer session in July 2021 and everything was back to normal by that September.
"That's when it got very serious again. We started prepping for nationals, training five days a week," Simmons said.
The two tried to downplay last year's successes.
"It was one of those things where it's like we were very shocked to see our hard work and dedication actually pay off, especially since all these other schools had no breaks and they were way more financed," Elias-Perez said.
According to Shaffer, the boxing program dates back to the late 1800s on post. Shaffer started out as a volunteer assistant coach in 2009 and worked his way up. By 2017, he took over as head coach.
Boxing and how they found it
Simmons started boxing his senior year of high school. He wasn't big into team sports and wanted something more disciplined — a theme reflected in much of his life, like choosing VMI as his school.
"I liked being in an environment with people like myself, having the same mentality and discipline to actually show up for training and make it productive," he said.
Wanting to commission, he came to VMI. Then he found the boxing program.
"I found it's like 110% the closest group here at VMI, like a brotherhood within a brotherhood kind of," he said.
Elias-Perez has been boxing since he was a child. He would watch fights with his father growing up.
"It was always something I thought was such an awesome thing to do. And I just wanted to really feel the experience of me being in a ring," he said.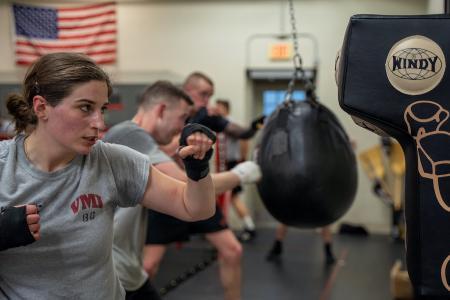 He was committed to boxing for six years and then sometime in high school he gave wrestling a shot. Overall, boxing won out. He liked the camaraderie he felt with boxing; it resonated with him more.
"I didn't feel like I was alone in the ring. I had my family support and my friends," he said. And that family grew once he came to VMI — his brother rats and his coach became his family.
Practice and prep
The club practices three days a week. Tuesdays are cardio workouts — 30-minute stair run, jump roping, and then into technical sparring. Tuesdays aren't at 100%, they said. Wednesdays are circuit workouts — a station for every person at practice. Thursdays are dedicated to hard sparring.
As they get closer to competitions, like nationals, the club tries to spend as much time in the gym as possible.
"On our off time we're still practicing. We have to do a certain amount of runs. We aim for about 50 miles a week, so you're expected to do runs on your off time," Simmons said. "A lot of us will do bag work in the gym in our free time as well, for one to two hours a day. So when we say it's three days a week, it's not truly three days."
At some points in the season, they're training six to 10 hours a week, Simmons said.
The team takes a certain mental commitment, the two captains said.
"Most people at first don't want to do it … they don't want to fight," Elias-Perez said. "But then they see other people fighting and they're like, 'Man, that looks kind of fun.'"
Once they get into and start fighting, they're hooked.
"They get into it, come out with a bloody nose or something and they're like, 'I love this, I want to do this again,'" Elias-Perez said.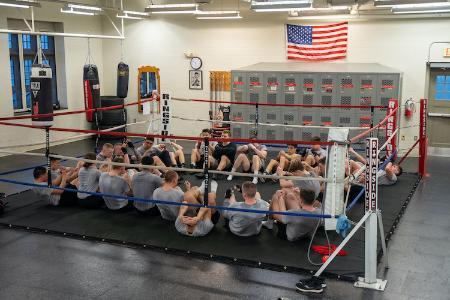 Right now, the club has about a dozen athletes looking to compete at nationals. That number could grow, though. Tryouts are still ongoing.
"We're looking for consistency in the gym and dedication if they can listen to Coach or not," Simmons said. "So we plan on growing that prior to nationals."
According to Shaffer, some cadets are part of the club for solely the workouts and don't travel for bouts.
"Every cadet is welcome to the gym and they can try out for the competitive team," he said. "The most rewarding part of coaching boxing at VMI is seeing the cadets develop true confidence while developing and maintaining a humble outlook in all aspects of the program that translates into success in life after post."
For the cadets, the most rewarding part is showing their coach their capabilities. They sacrificed spring break to train last year, and Simmons pointed out that Shaffer gave up time from his full-time job to do the extra sessions.
"Everyone gave everything they had out there and then seeing the smile on Coach's face when he got the trophy and the belt … he had been putting in just as much effort and sacrificing countless hours from his full-time job losing money to come out and make sure that we could train."
The USIBA National Championship will be held at VMI's Cocke Hall March 23-25.
UPDATE: Photos from the event are now available on VMI's Flickr account.
Laura Peters Shapiro
Communications & Marketing
VIRGINIA MILITARY INSTITUTE