First Coast Guard Detachment FTX Kicks Off in Style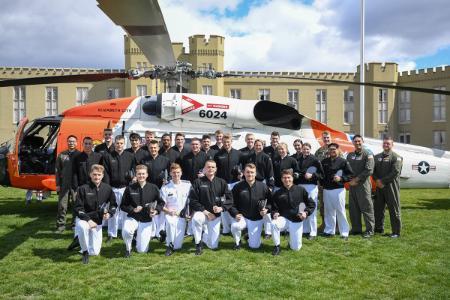 LEXINGTON, Va., Apr. 1, 2022—VMI's Coast Guard detachment kicked off their first ever spring field training exercises in style with the arrival of a U.S. Coast Guard HH-60 helicopter to post.
Organized by Cmdr. William Davis '00, father of detachment member Alexis Davis '23, the helicopter visit provided cadets a chance to learn from Coast Guard pilots about aviation and operations. Davis was thrilled to support cadets looking to commission in the Coast Guard.
"This is an amazing thing right here," Davis said. "When I graduated in 2000, there was no formal path or assistance [to commissioning in the Coast Guard]. There was a need for a Coast Guard detachment. I think it is a significant accomplishment for these cadets that have put it all together."
A growing program at VMI, the detachment prepares cadets for commissioning in the Coast Guard through certifications, guest speakers, physical training, internship opportunities, and serving in the U.S. Coast Guard Auxiliary.
This weekend, the detachment travels to Smith Mountain Lake and conducts aviation training, small boat training, and safety and Homeland Security briefs.
"The Coast Guard detachment is proud to participate in FTX," Aidan Simmons '23 said. "[The experience will] boost all cadets that are involved with a chance in commissioning the Coast Guard and learning more about the branch."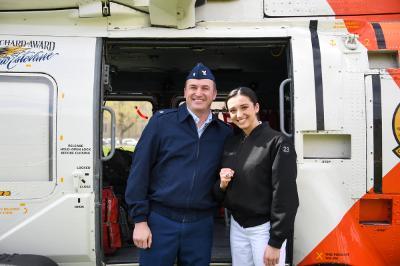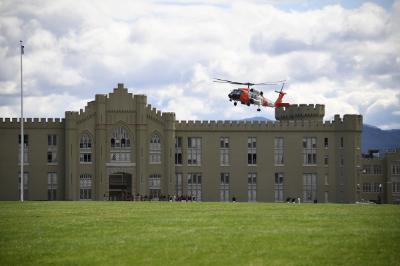 Eric Moore
Communications & Marketing
VIRGINIA MILITARY INSTITUTE