Combat Shooting Club Team Makes Strong Showing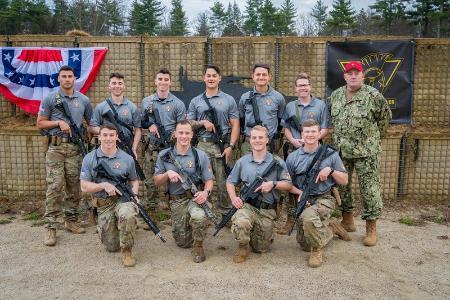 LEXINGTON, Va., Apr. 11, 2022—The VMI combat shooting club team represented the Institute at the annual Relentless Warrior Competition hosted by the Sig Sauer Academy in New Hampshire on April 9. At the event, the team competed against federal and senior military colleges in a six-stage combat shooting challenge.
Each stage was comprised of a random mix of paper and steel targets, with a designated course of fire for each. Competitors are graded as individuals but compete as a team. Each individual is scored on speed and accuracy hitting the paper target's "A" zone and knocking down steel targets. Individual scores are aggregated to create a team score.
The VMI team placed 4th overall, beating out competitors like the Naval Academy and Royal Military College of Canada. Braden Kerr '23 won a "Top Gun Award" for exceptional marksmanship and earned a Sig M-18 pistol. Kerr and Jack Stafford '22 were also selected to conduct the POW/MIA Missing Man Table setting ceremony at the concluding banquet.
A new club on post, the team is very proud of their performance at the competition.
"We went from having no coach, no money, nor bullets to competing at the biggest collegiate combat shooting event in the country, all within a matter of six months," said Stafford, cadet in charge. "If the dedication, effort, and skill of the team can carry us this far in one semester, I can only imagine how we will be competing in three years."
Eric Moore
Photos courtesy of Sig Sauer and the combat shooting team
Communications & Marketing
VIRGINIA MILITARY INSTITUTE