Honors Week: One Cadet's Connection to the Greek Resistance
LEXINGTON, Va. March 24, 2023 — Cadet Chris Cocoris '23 remembers growing up listening to stories about his great-uncle George Cocoris. They were passed down to his father since his great-uncle had passed before Cocoris was born. George joined the Greek resistance to oppose the Axis occupation in 1941 Greece, Cocoris said.
For Cocoris' senior thesis "Suppressing the Red Tide: Greek-American-British Counterinsurgency Efforts Against Greek Communist Insurgents During the Third Phase of the Greek Civil War, 1945-1949, he decided to dive into his Greek heritage.
"I selected the topic to demonstrate how the Greek government, with American and British assistance, managed to defeat one of the earliest communist insurgencies," the 1st Class Virginia Military Institute cadet said. "In addition, I wanted to work on a topic for which I could use my fluency of the Greek language, which in this instance proved to be instrumental for the completion of my project."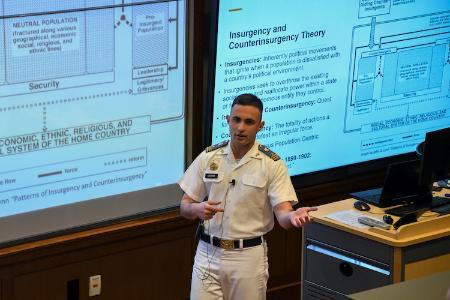 The project took nearly two years, and according to his advisor Col. David Gray, it's more of a graduate-level thesis than an undergraduate. Gray described Cocoris as a go-getter who's self-motivated. He was impressed with his curiosity, which led Cocoris to visit multiple archives — including some in Greece, the National Archives, the Truman Library, and the George C. Marshall Library on post — to attain research for his thesis.
"He's got some good insights and as his young mind is developing both as a historian but perhaps more important in the near term as a future army officer, soon to be this spring, and an infantry man, he will for sure engage in some of these types of operations if he stays in long enough," Gray said. "So this gives him a great intellectual foundation and hones his own judgment in thinking about these important issues."
Cocoris, a history major, will commission into the United States Army as an active-duty Infantry 2nd Lieutenant upon graduation.
The biggest piece of research he collected was his great-uncle's journal, something he wasn't aware his family even possessed.
"The resistance group he joined was ELAS, which during WWII, had kept its communist character hidden," Cocoris said. "I was lucky to be given his journal 'Why we Became Guerrillas of ELAS' by my father, which unveiled the fact that upon the liberation of Greece, George Cocoris' partisan group opposed the rule of the Greek government, which is the focus of my study."
His thesis was presented March 22 for VMI's Honor Week. The Greek Civil War is one of the few successful counterinsurgencies in an era of defeats, he said. His great-uncle's journal proved to give great insight into a firsthand account. Captured and imprisoned by the Greek National Army in 1946, George Cocoris was eventually released in 1947.
"Military historians tend to focus on leading personalities in warfare, such as general officers and political leaders. While primarily focusing on WWII rather than the Greek Civil War, George Cocoris' journal allowed me to observe the average insurgent's opinions and way of life during the civil strife in Greece," Cocoris said. "His journal reflects his reactions to the Greek government's counterinsurgency efforts and the insurgent rhetoric's shift from national liberation towards communism."
His thesis required lots of work and dedication — it was a three semester process to complete a 50-page report that went through a myriad of edits and refinements.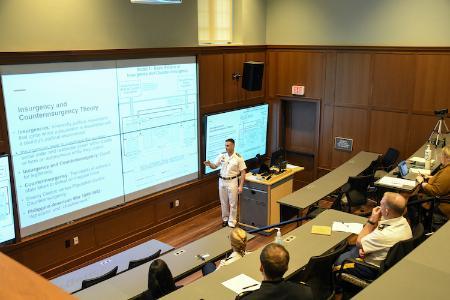 "I truly immersed myself in the study of the Greek Civil War, researching archival sources from several countries, and exploring my family's past during the civil strife in Greece," he said.
Gray gave Cocoris a series of 10 books to start out with the second semester of his 2nd Class year, in order to provide him with some background reading and perspective and context on the period of study.
"That gave him some clues as to where to start," Gray said.
Research carried on over through the summer into the 1st Class year, where Cocoris began producing a thesis. After their first semester they must produce a draft of their thesis and give an oral defense, Gray said. His final semester was spent refining his research and reviewing edits from Gray after each draft of his thesis.
Laura Peters Shapiro
Communications & Marketing
VIRGINIA MILITARY INSTITUTE