Overnight Visits Return to Open Houses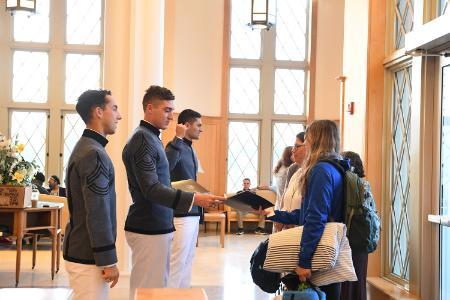 LEXINGTON, Va., Nov. 5, 2021—As the world adapts to an environment of managing COVID-19 risk, VMI admissions staff have been able to bring back a staple of pre-pandemic life—overnight visits by prospective cadets—but with safeguards in place.
Approximately 55 high schoolers attended the September open house, and two more open houses were also offered this fall. All participants in this year's open houses are required to submit proof of COVID-19 vaccination upon arrival to be able to stay the night, and are only allowed to stay in rat rooms overnight if all rats in that room have been vaccinated. Any participant who is not fully vaccinated may attend the open house, wearing a mask and staying socially distanced, but is not allowed to spend the night in barracks.
Last year, as the coronavirus pandemic raged, VMI held six open houses, but they were limited to one day only—Saturdays—and prospective cadets could only bring one adult with them.
This year, open houses look much more like they did before the pandemic—an overnight experience with two adults allowed per high school student.
"We wanted to get as close to the pre-Covid schedule as possible, and we pretty much have, outside of some small changes we were going to make anyway in terms of different presenters and moving some things around," said Maj. William "Chase" Perry '07, assistant director of admissions.
As in years past, open houses begin on a Friday morning with remarks from the superintendent and dean. A discussion of financial aid is also a part of that first gathering, as is a presentation from VMI Alumni Agencies, which is beginning a program to pair prospective cadets with alumni. After a short talk from a representative of the Center for Leadership and Ethics, high schoolers and their parents head to lunch in Crozet Hall.
The meal is held early, at 11 a.m., so as to not overload Crozet Hall and to allow for social distancing.
Then, it's time for a major fair, held on the second floor of the Hall of Valor in Marshall Hall. Perry explained that this event gives the visitors a chance to chat with professors from a variety of majors and identify fields of study suited to students' life goals.
Next are two separate presentations—one for students and one for parents—about ROTC units. Visits to academic buildings come next, so open house attendees can see the classrooms and labs they may someday occupy.
Students and parents then attend Friday afternoon's parade, and students go with the S5 staff for dinner, a question-and-answer session with rats, and a tour of the Corps Physical Training Facility.
Parents, meanwhile, attend a Parents Council social after the parade with representatives of academic departments and ROTC units there to answer questions.
The next morning, the commandant speaks to the newly reunited high schoolers and their parents, as do some cadets holding senior leadership positions within the Corps. Wrapping up the event are an admissions brief and a question-and-answer panel with cadets.
The upcoming open houses for this fall filled quickly, with 80 prospective cadets signed up for each.
"It's a good problem to have," said Perry.
Mary Price
Communications & Marketing
VIRGINIA MILITARY INSTITUTE