Cadet Presents Research at Mid-Atlantic Regional Conference for Undergraduate Scholarship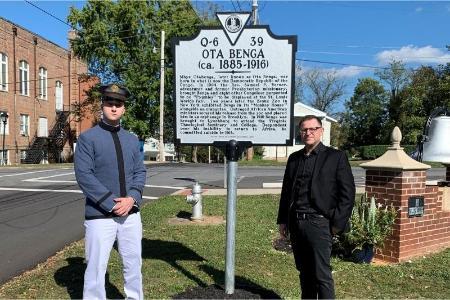 LEXINGTON, Va., November 16, 2021—Mitchell Masterson '21 and his mentor, Maj. Jochen S. Arndt, travelled recently to the Mid-Atlantic Regional Conference for Undergraduate Scholarship in Lynchburg, Virginia, where Masterson presented his work on "Reporting on Civil War: How Newspapers Explained Township Violence in South Africa, 1990-1994." Masterson's extremely well-received presentation reflected the conclusions of his recent summer research which he conducted with the support of one of VMI's Summer Undergraduate Research Institute (SURI) cadet/mentor awards. Reflecting on the experience, Masterson notes, "The conference presentation was an amazing conclusion to my research: I had the opportunity to stand in front of an audience, tell them about what I found out, and answer their thought-provoking questions."
Masterson's research journey began in the fall semester of 2020 when he took a course on South African history with Arndt. "It was fascinating to realize that there are important parallels between the South African past and our own history here in the United States notably with regard to race relations." After the course, Masterson wanted to learn more about South Africa. "It was sheer luck that Major Arndt taught a capstone course on the rise and fall of South Africa's apartheid regime in the spring semester of 2021; this gave me the continuity I was looking for," Masterson says. For his capstone, he developed a project that has not received the scholarly attention it deserves: South Africa's transition from apartheid to non-racial democratic rule between 1990 and 1994. As Masterson explains, "The transition is often hailed as a miracle because it did not involve a white-against-Black race war; however, while the negotiations to majority rule were going on, a civil war raged in the country's townships, the places the apartheid regime had designed as segregated urban living spaces for Black workers."
The capstone paper provided many new insights but it also raised new questions to which Masterson wanted to know the answers. The question that fascinated him the most was how U.S. and South African newspapers reported on the civil wars that raged in the townships during the early 1990s. According to Masterson, "Gaining a better understanding of the media's coverage is important, because the coverage established the proverbial first draft of the history of this violence—a baseline understanding that influenced all subsequent narratives."

He used this project to compete successfully for one of VMI's SURI awards. As Masterson notes, "The SURI award was a fantastic opportunity because it allowed me to spend an entire summer session on post to do research while receiving a stipend and credits." Based on a close analysis of U.S. and South African newspapers, Masterson concluded that the media's reporting initially labelled the violence as a Zulu-Xhosa tribal war, gradually shifted to explaining it as an ANC-IFP political power struggle, and eventually characterized it as a conflict driven by a Third Force comprised of undercover government forces and white supremacists.
With the research completed, it was only logical for Masterson to look for opportunities to present his conclusions to a wider audience. The Mid-Atlantic Regional Conference for Undergraduate Scholarship was a perfect fit and brought all his work over the last year into focus. "I acquired an immense amount of historical knowledge through this process," Masterson notes, "But I also honed transferable skills notably how to ask important questions, how to develop evidence-based answers, and how to communicate these answers effectively in writing and orally." He is convinced that these skills will serve him well in his next academic endeavor—law school.
Maj. Jochen Arndt and Mitchell Masterson '21
Photos courtesy of Sheri Arndt
Department of History
VIRGINIA MILITARY INSTITUTE