SURI: Cadet Tests Serviceability on Chessie Trail Bridge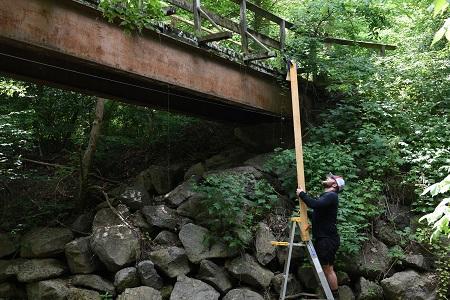 LEXINGTON, Va., July 20, 2023—The Chessie Nature Trail, which runs along the Maury River from Lexington to Buena Vista, is a mecca to tourists, hikers, bikers, and nature lovers. It is owned by Virginia Military Institute and often used by cadets for physical training. It consists of seven miles of level path including several pedestrian bridges. Lawrence Porter '24, a civil engineering major, is examining the serviceability of one of those bridges in his 10-week Summer Undergraduate Research Institute (SURI) project titled, "The Serviceability Response of a VMI Footbridge on the Chessie Trail."
The bridge was selected for study because it is one of many on the trail susceptible to deflections and vibrations that can be emitted by foot traffic (e.g., marching, running, and walking by individuals, teams, races, and military units). "My team will be examining these bridges to highlight where problems may occur. While I am currently studying this particular bridge, a long-term goal for the civil engineering department is to examine all the bridges on the trail. We will measure the deflections and vibrations caused by different loads acting on each bridge, looking at both vertical and lateral (side sway) displacement. The data collected from these tests can indicate the current serviceability state of each bridge. We are still investigating how old the bridge is and where the two steel beams came from. They are exactly the same size, which is rare. The bridge beams were likely reserviced from another structure and put into place with new wood decking for this pedestrian bridge," said Porter.
Porter will refer to the American Association of State Highway and Transportation Officials (AASHTO) for guidelines pertaining to steel structures. In addition, he will use a displacement measuring device called a wire potentiometer (wire pot); cable to run down from the steel beams to the wire pot to measure all the deflections; a magnetic hook attached to the steel beams on which to connect the wire; an accelerometer, which measures vibrations; a generator to power the equipment; ladders to reach to beams; and laptop to analyze his data.
Serviceability, defined for this study, is not a measurement of safety, but rather the perception of safety on the part of the person crossing the bridge. A bridge can be functionally safe, but if it appears unsafe or if the vibrations and deflections caused by moving across it result in fear and anxiety to a person, then there is a serviceability issue. To test perception, Porter will survey people crossing the bridge.
Porter's advisor on the project, Maj. Kacie D'Alessandro, assistant professor of civil engineering, said that as civil engineers, their utmost priority is focused on the safety and well-being of those impacted by their designs. "By focusing on serviceability of local pedestrian bridges along the Chessie Trail, Porter has gained first-hand experience with how engineering impacts a community. It has been interesting to see how he has looked into loading scenarios, such as rucking in groups, that are unique to VMI and our local trails," she said.
Porter will present his findings at the VMI Undergraduate Research Symposium in April. From West Point, Virginia, he is a graduate of Christchurch School in Middlesex County, and the son of Sandy and Tracy Porter '87. Upon graduating, he plans to commission into the Army National Guard as an officer in the Corps of Engineers.
Marianne Hause
Communications & Marketing
VIRGINIA MILITARY INSTITUTE