The Extra Mile: Cadet Emergency Medical Technicians
LEXINGTON, Va. March 14, 2023 — Donnie McBrayer came to Lexington to retire, but it seems to be the furthest thing from what he's done. As the assistant advisor for Virginia Military Institute's cadet emergency medical technicians (EMTs), he's tasked with taking cadets and turning them into certified EMTs.
When he first came to Lexington, he volunteered for the City of Lexington, worked some VMI football games, and wound up teaching EMT classes. By 2014, he started volunteering with the fire department. In 2016, he was asked to help set up the EMT organization at VMI.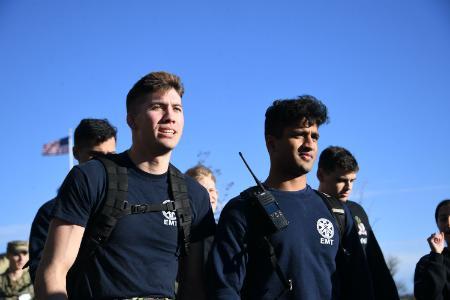 The unofficial program stems back to the 1990s, with a group of about five to six cadets. In the spring of 2016, it became certified by the state as a non-transport emergency medical service (EMS) agency. Every two years, they need to get recertified as an organization. With that certification, VMI's cadet EMTs can handle 911 calls on post instead of relying on the Lexington Fire Department's EMTs to arrive.
Lexington only gets called if the patient in question needs transportation to a hospital, thanks to the program.
It started out as a club organization, then morphed into being integrated into the regimental system. In the 2014-15 academic year, the club had 24 cadets. That grew to 73 at one point. Currently, they have 68 cadets.
Cadet EMT Chief Ryan Carpino '23, a biology major from Worcester, Massachusetts, has been part of the program for nearly three years. He also volunteers with the Lexington Fire Department.
He said he's always been drawn to public service. His grandfather and mother have both served as first responders.
"I always had that kind of public service thing. I guess you could say in my blood, so to speak," he said.
He was also drawn to the military, thus making VMI a perfect fit for him.
How the program works
Training happens on post, but some come in with certifications they obtained while in high school, Carpino explained. In the spring, there's usually an interest meeting that leads into the interview process. Then the list is made.
During the first summer session, if accepted, they attend the certification classes. Those participating stay on post with free room and board and their meals paid for during the summer. In turn, cadets also receive three credit hours. The catch is, cadets then owe the program four semesters.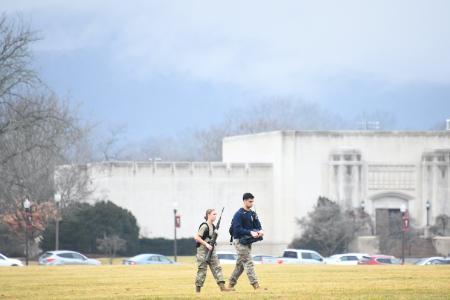 "There's quite a bit of money … getting that all done," McBrayer said. "So we have people that we are able to depend on for those two years."
They have 24 slots open currently.
"We try not to close the door on anybody," Carpino said. "But at some point, you kind of have to. We always say that if you don't get a chance to do it through us, there are plenty of other options they can do."
Not everyone who participates in the program are commissioning. Some graduate and end up working as emergency room doctors, some become police officers, others are firefighters/EMTs.
"What we try to do is make sure they have a career when they leave here … that they are marketable," McBrayer said.
Where you'd see them
The VMI cadet EMTs are at every VMI event.
"During a football game, we have a whole EMS operation — besides the city ambulance — we have our cadet EMTs on that," McBrayer said. "We have them throughout the stadium. If there's a civilian that has an injury problem, or medical problem, we can be there for them, too. That's a big thing of what we also do at every football game, every basketball game, we have one to two EMTs there, things like that."
Some EMTs are NCAA athletes. Others are part of cadet leadership during events, there has to be some juggling to make sure events are covered.
There's a rank system and an operation to be able to spread their resources around.
"We have that chain of developing people that allows us to help and each company has entities attached to them," Carpino said. "So anytime they do any event, they're always there."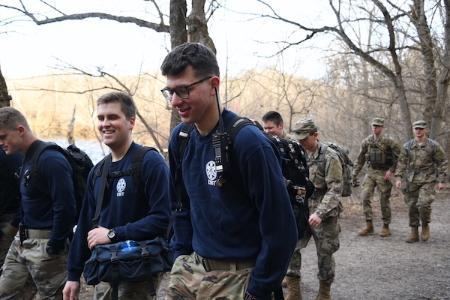 The deputy chief makes the plan, the operations lieutenant is in charge of staffing. According to Carpino, it works as whoever is free signs up and they will staff certain things.
"We also have people on guard 24/7, so it's more like a standby thing," he said. "There's always the senior EMT that has the experience and we have the younger EMT there so they can learn and grow."
McBrayer said it's a rewarding experience working with the cadet EMTs, especially knowing that the cadets will be leaving to do greater things in life.
"That's the most rewarding part … to see them find their career path and to be able to succeed," he said.
Carpino likes that you can see instant change in the work they're doing.
"The most rewarding calls are the ones when you get to make an immediate direct change in your brother rat's darkest time, whether that be relieving pain or just being there emotionally for them," he said.
Laura Peters Shapiro
Communications & Marketing
VIRGINIA MILITARY INSTITUTE
Olivia Polumbo
Communications & Marketing
VIRGINIA MILITARY INSTITUTE