The Extra Mile: Scuba Club
LEXINGTON, Va. April 25, 2023 — In 2018, Laura Fenske '25, assistant cadet in charge of the Virginia Military Institute Scuba Club, was introduced to scuba diving by her parents, who had been diving for many years. Fenske's parents discovered their love for scuba diving on their honeymoon and have since adapted the skill to fit their lifestyle.
Fenske's first diving experience was far from impressive.
"It was a cold pool, and I did it up in Northern Virginia," she said. "I went to a quarry, so it was dull freshwater, and it wasn't that great of an experience."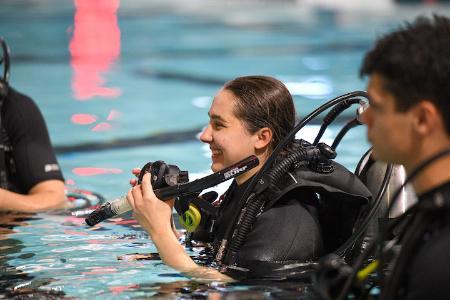 The Fenske family decided that the cold water wasn't ideal for their diving adventures, but they still wanted to dive year-round. They explored different options and finally landed on warm-water-only diving.
"We went down to Florida and did some diving in the [Florida] Keys, and then went up to Pompano Beach," she said. During that trip, Fenske's family embarked on wreck dives and drift dives, which led to her newfound hobby. "That's where I fell in love with diving."
Two years into scuba diving, Fenske wanted to take her diving experience to the next level. To improve her skills and increase credibility, Fenske sought out professional certifications through the Professional Association of Diving Instructors (PADI).
With several certifications, including PADI Divemaster and Scuba Schools International (SSI) Instructor, she knew that she could turn diving into a career. All along, Fenske knew that she wanted to use these certifications to encourage her friends to share her love for scuba diving.
"Of course, I could make a career out of it," she said. "It's a fun hobby… and I really just use the professional certifications to be able to teach people how to do it and recruit all my friends."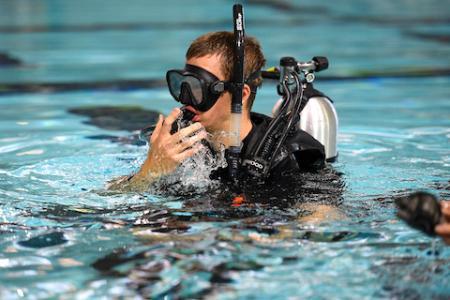 Scuba diving scenarios
When thinking of a military college in Southwest Virginia, the VMI Scuba Club is probably not on anyone's radar.
Surprisingly, cadets have applied this fun club to real-life experiences and necessary job training.
"Cadets join the Scuba Club if they have a trip coming up, and they want to get certified, or it might pertain to their career," said Akhil Thadur '24, cadet in charge of the Scuba Club.
Thadur is a PADI Advanced Diver (Nitrox) and is currently working towards certification as a rescue diver.
"The course teaches me how to manage a life-or-death situation," he said. "If something bad happens to someone, how do I organize their evacuation? How do I contact authorities? How do I manage a rescue team?"
By joining the Scuba Club, cadets have access to resources, including many of these certification courses.
"If they want to be a diver in the U.S. Navy, a commercial diver, or if they want to go into special operations … this club can be a good steppingstone for them, and their skills," said Thadur.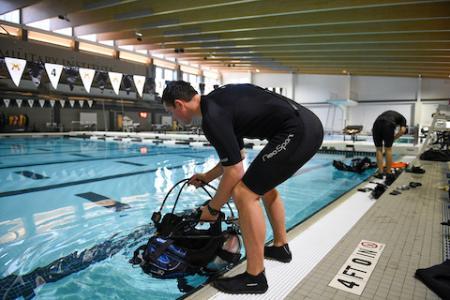 If cadets are interested in pursuing certifications, most of the legwork is completed on their own time. Once a cadet has prepared for the written portion of their certification, they move on to complete the in-person diving tests.
"You do the bookwork, and then you go to the instructor for your dives, and you take several tests," said Thadur. After completing the certification, cadets can use their credentials in real-time with the Scuba Club.
"We take a weekend, and travel to a place called Lake Phoenix, which is a quarry," he said. "It's one of the best dive sites on the East Coast."
How to immerse yourself in the club
Cadets have the option of taking their first dive with the Scuba Club, or if they have diving experience, they can expand their skills.
"The purpose of the Scuba Club is to introduce cadets to scuba diving," said Thadur. "For those that are already certified, we want to provide them with advanced training and minimize some of the costs that are associated with diving."
During the ratline, Fenske joined the Scuba Club as an escape from her day-to-day activities. She was asked to assist the club due to her professional certifications and deep knowledge of diving.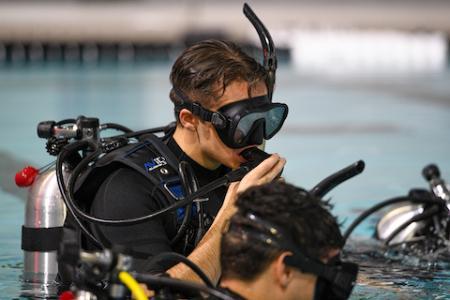 "It broke up part of the ratline for me," she said. "On Sundays, I got to help teach diving at the scuba club … and it was a lifesaver."
Fenske shared that her diving skills prepared her for a cadetship at VMI, and more importantly – these skills have prepared her for life. From learning to breathe through a regulator to staying calm underwater – Fenske has trained herself to find tranquility in the chaos.
"It teaches you to stay calm," she said. "Either way, I have air coming in … I don't want to shoot to the surface, or I could get injured."
During the school year, Fenske shared that life on post can be hectic. Those busy times have allowed Fenske to apply her underwater skills in scenarios on land.
"I just have to stop and take a breath," she said. "I tell myself, 'Remember, you have air,' and it's all fine."
Each year during the spring semester, the club travels to a quarry and completes one to two dive trips. All cadets are welcome to join, and no diving experience or equipment is necessary.
Olivia Polumbo
Photos by Cadet Andrew J. Partridge '24
Communications & Marketing
VIRGINIA MILITARY INSTITUTE