Soybean Research Project Taken Abroad During Spring Furlough
LEXINGTON, Va. April 20, 2023 — Entering Virginia Military Institute, Chris Kushner '24 signed up for a Biology 111 class with Col. Anne Alerding. Little did he know that when he was asked to join a research project, it would be something he would continue throughout his time at VMI.
The research material in question? Soybeans. He admits it's a subject he didn't know a lot about. The project was of interest to him — allowing him to learn something that was more interdisciplinary by applying machine learning along with the biological approach to research.
He's been able to present some of his findings alongside Ph.D. candidates, which Kushner described as a humbling experience.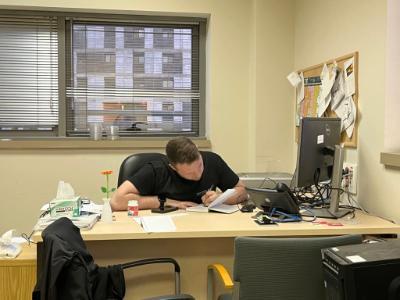 "I've [been able] to do some pretty interesting work that really hasn't been researched too much in the field. So I definitely think it's interesting to be on a team where the research is actually novel," he said.
Kushner began his research by analyzing soybean cross-sections and morphing them into machine-learning options for image analysis. These actions ultimately led him to his Summer Undergraduate Research Institute (SURI) project in 2022. He compared two different machine-learning tools and their outputs to examine how effectively they could be utilized for the rest of the project's workflow.
Alerding's research stems back to 2017 when she received research money from the Jackson-Hope Fund and the Virginia Soybean Board to initiate a project on soybean fields. The work was steady, but then it became clear that she couldn't complete it alone.
That's when she started recruiting cadets to help her out each semester.
Alerding, a professor in the Department of Biology, said her mentoring relationship with Kushner started to help him navigate the Rat Line. It then morphed into a lengthy process, with him staying on board for further research.
Alerding had been working with Dr. Aryeh Weiss from the Faculty of Engineering of Bar-Ilan University in Israel for several years. Weiss spent several years traveling back and forth, from Israel to the United States, with one goal in mind: research. When the pandemic hit, travel halted, but the research was far from finished.
As the project grew, Kushner and Alerding began meeting with Wiess, via Zoom, to learn new computer programs and skills. Zoom only scratched the surface. The goal for both Kushner and Alerding was to meet with Weiss in person, but the group had to wait until COVID-19 restrictions were lifted.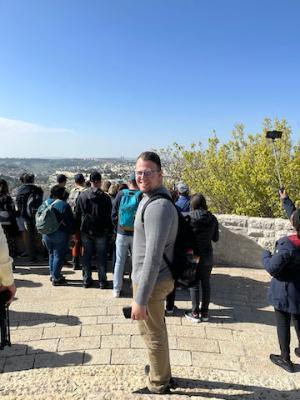 In January, Kushner applied for funding through the VMI Center for Undergraduate Research (VCUR) to travel overseas to Israel as a continuation of his research. The week-long trip, held over spring furlough, was to help him and Alerding perfect the methodology used to classify soybeans through machine-learning and bioimage analysis programs.
"The goal of VCUR is to promote the undergraduate research experience here at VMI," according to Maj. Kaitlyn "Kaitie" Cartwright, assistant professor in the Department of Chemistry. "The undergraduate research experience is one of the most meaningful outside-of-the-classroom experiences that we can give the cadets, and the funding VCUR provides is aimed to help facilitate and maximize these uniquely impactful opportunities for intellectual and professional development."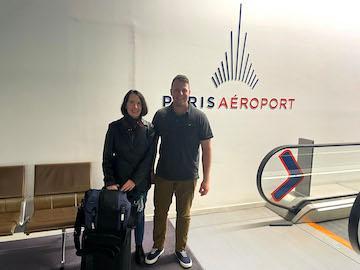 The Jackson-Hope Fund, which funds VCUR, allows cadets to travel for conferences or research-related things, Cartwright said. To receive these funds, cadets are required to prepare a written proposal, which includes an explanation and justification.
It took Alerding and Kushner one and a half days to get to Israel — leaving early on a Saturday morning and arriving on a Sunday afternoon. Once their plane landed, the pair dove straight into research. For four and a half days, they arrived at the lab and worked from 8 a.m. to 9 p.m., only taking breaks at mealtimes.
While in Tel Aviv, Kushner furthered his research with the machine-learning program called Ilastik. This program classifies pixels in an image and assigns them to a specific class. Results from this program can then be entered into a bioimage analysis program, which collects data on the ratios between certain classes. That data is later used to identify high-yielding plants.
The trip also helped Kushner further his Institute Honors thesis.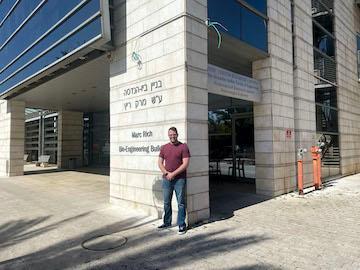 Kushner's original intent was to study chemistry, Alerding said. Over the course of his first year at VMI, Kushner decided to work longer with Alerding, so she slowly gave him more work to do.
"I gave him a little bit of different work and he dabbled around in a bunch of different projects until we decided on his thesis project," she said.
Alerding said that a lot of the research Kushner has collected she's been using, especially while occupied writing a paper. She said that Kushner is a high-performing student — something she's seen from the very beginning of his VMI career.
"I feel like he's really blossomed at VMI," she said. "It's given him opportunities to take leadership roles. It's helped him realize what his true potential is, and I think in the last year he's shown incredible growth."
Laura Peters Shapiro
Photos courtesy of Col. Anne Alerding
Communications & Marketing
VIRGINIA MILITARY INSTITUTE