VMI Cadet Researches Disaster Relief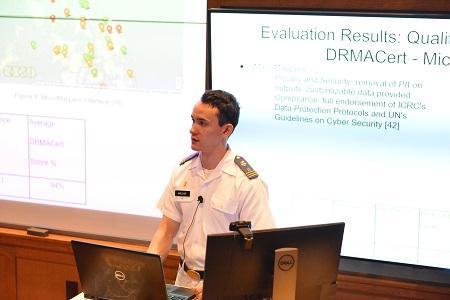 LEXINGTON, Va., March 24, 2022—Volcano eruption in Indonesia, tornadoes in the United States, Hurricane Ida, Cyclone Tauktae, flash floods in India and Nepal, floods in Germany and Belgium are just a few examples of natural disasters that occurred around the world in 2021. In the United States alone, damages from natural disasters that year totaled $145 billion.
Crowdsourcing, which is enlisting the help of a large pool of people, has historically been a valuable way to help with disaster relief. Tanner Mallari '22 researched that subject in his senior thesis, "Evaluation of Crowdsourcing Applications in Disaster Relief", during Honors Week at Virginia Military Institute, held March 21-31.
For his thesis, Mallari defined "crowdsourcing" as a virtual crowd, that is internet users, who retrieve or perform organizational tasks, either as volunteers or for pay. His thesis question: "Is crowdsourcing a viable solution for disaster relief?"
To answer the thesis question, Mallari examined five computer applications based on their popularity and relevance for disaster relief: Ushahidi, mTurk, MicroMappers, OpenStreetMap, and GeoCommons and evaluated them using the following criteria:
Effectiveness: Can it be used for the intended purpose? Is it fast and convenient?
Education: Does it provide support pages and guides to allowing the user to learn?
Privacy & Security: Is the data secure and is the user protected?
Compliance: Does it adhere to laws, regulations and ethical standards?
Mallari found that all five applications were generally effective and have a huge impact in disaster relief, and they all prioritized user education. However, he found they all need improving in providing privacy and security for the user, as well as verifying user reports that have the potential of being false or malicious.
Mallari, the son of Barbara Mallari of Folsom, California and Ricafort Mallari of Rancho Cordova, California, is majoring in computer and information sciences. After graduating in May, he will commission into the Navy as a flight officer. He wants to make a career out of the Navy and to become a permanent military professor.
Marianne Hause
Communications & Marketing
VIRGINIA MILITARY INSTITUTE