VMI Cadet Researches Precision in Rockets
LEXINGTON, Va. July 28, 2023 — Rockets have existed since the first century. In ancient China, they were first used to create explosions during religious festivals, then later used for warfare. In modern times, they are used for fireworks, space exploration, human spaceflight, and to launch satellites into orbit.
Brian Tavenner '25, an electrical and computer engineering major at Virginia Military Institute, is designing and building a fiberglass rocket to reach the exact height of 1,023 feet using a F-engine motor in his five-week Summer Undergraduate Research Institute (SURI) project titled, "Target Altitude Project."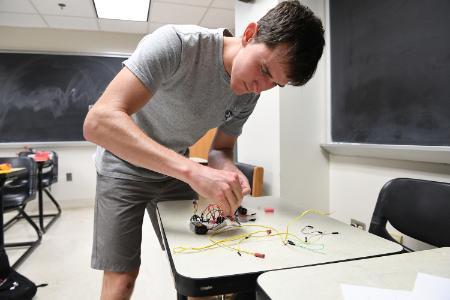 Tavenner chose the research project in order to enhance his engineering skills including electrical and mechanical design, documentation, construction, and debugging. In addition, he wants to lay the foundation for a VMI rocketry club to compete with other colleges. According to Tavenner, many major colleges and universities including The Citadel, MIT, and Georgia Tech sponsor student-led rocketry clubs as chapters of the National Rocketry Association. "I propose to create a high-power rocketry club for VMI, and lead a team to enter a rocket combination competition in the annual national intercollegiate Battle of the Rockets, Target Altitude Event," he said. The height of 1,023 is a requirement of the competition to be held in April. The team with the closest altitude to 1,023 wins.
Tavenner pointed out that all the measurements in the design of the rocket must be perfectly accurate to achieve the specific height. "Even if it's off just a little bit, it just won't work. It must be perfect. The hard part is determining how much higher the rocket will glide up on its own once I stop the engine and the nose cone has popped off. That will require a lot of test flights," he said.
Tavenner graduated from Midlothian High School just outside of Richmond, Virginia. He is a NCAA long-distance track and cross country runner, plays the viola in the strings club, and studies Japanese independently through online courses. Tavenner is part of a large STEM family legacy at VMI. He is the son of Andrea and James '91, who majored in math and played baseball for VMI. His two uncles, Cloyd '88, an electrical engineering major, and Dave '03, a history major, as well as his two brothers, Jamie '16 and Thomas '19, who both majored in civil engineering, are all alumni. His cousin, Molly will matriculate in the fall.
Marianne Hause
Communications & Marketing
VIRGINIA MILITARY INSTITUTE