Electrical and Computer Engineering
The Department of Electrical and Computer Engineering educates cadets in a rigorous academic environment that nurtures the development of analytic and communications skills applied to the design of electrical and computer engineering hardware and software components and systems, striking a balance between a solid foundation in fundamental principles and practical applied experience, to produce graduates that are prepared for lifelong learning, that exhibit professional engineering practices, and are able to make significant contributions to their profession and society.
11-1 Student to Faculty Ratio
All ECE faculty have Ph.D.'s

All classes taught by faculty

Broad Coverage of ECE
The coverage includes circuits, digital systems, and computer architecture, microcontrollers, programmable logic devices, controls, communications, signal processing, and microelectronics.
Hands-On Laboratories
All courses in the ECE curriculum have a partial or full laboratory component which provides hands-on opportunities that reinforce theory with practical examples of hardware and software systems.
Independent Study Projects and Design Projects
A variety of projects in many fields are available including biomedical engineering, robotics, and semiconductor fabrication.
Program Educational Objectives:
The department seeks to prepare graduates who, in a few years after graduation, have:
Established themselves in, and made contributions to, a professional career in industry, government, or the military, and/or are continuing their education in graduate school.
Remained current in their profession through continuing education, via the completion of graduate coursework, attainment of certifications, or maintenance of active professional licensure, or through personal self-study and/or on-the-job training as part of their career advancement.
---
Degrees and Programs
Major(s): Electrical and Computer Engineering
Degree(s): Bachelor of Science (B.S.)
Minor(s):
To give you the most flexibility after graduation, our courses provide a broad foundation in many areas of electrical and computer engineering.
For students seeking specialization in an area, the Electrical and Computer Engineering Department offers a variety of elective courses, as well as customized independent research courses tailored to specific interests. The program culminates with a capstone design experience that includes a competition with other colleges and universities in the southeastern U.S.
Scholarships and Internships
Numerous scholarship and internships are available to cadets majoring in Electrical and Computer Engineering. Scholarships and Awards
Eligibility:
Students may apply to the ECE Honors Program no earlier than the beginning of their third class year. The application form must be completed and submitted to the Registrar's Office through the ECE Department Head.
Applicants must have a minimum cumulative GPA of 3.00 and a minimum ECE GPA of 3.30.
Requirements:
Students must maintain a minimum cumulative GPA of 3.00 and a minimum ECE GPA of 3.30 in order to remain in the ECE Honors Program and be eligible for ECE Honors upon graduation.
Students must submit an honors thesis proposal to the ECE Department Head no later than the end of the second class year. The honors thesis proposal must include the following:

A description of the project
Approval of the project advisor(s)

Students must complete (with no grades below B) a minimum of 3 hours of Undergraduate Research in ECE (EE 491-496) or ECE Internship for Credit (EE 469).
Students must present the results of their work in an external professional forum, such as IEEE, NCUR, ASEE, etc.
At the conclusion of their project, but no later than one week before the end of classes that semester, students must submit their final honors thesis to their project advisor(s) and the ECE Department Head for approval.
---
ECE in the News
Find out more about the department's cadets and faculty in recent VMI news.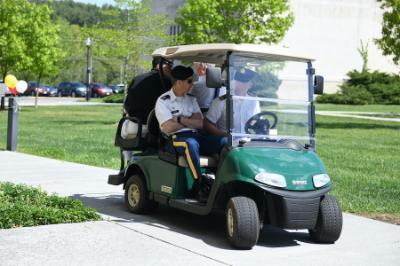 Computer-Controlled Golf Cart Designed by Cadets Debuts at VMI
Cadets at Virginia Military Institute recently demonstrated a computer-controlled golf cart to assist those who have trouble with mobility. The idea came about when the VMI Alumni Association got requests for golf cart transportation around post during reunions.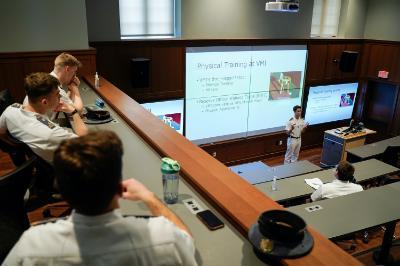 VMI Cadet Researches Physical Fitness Motivation
Philip Argauer '23 conducted a year-long research project on cadet motivation with physical fitness and presented his findings in his senior thesis titled, "Increased Physical Fitness With Volt" during Honors Week, held March 20-28.