VMI Team Wins Awards at International Competition on the Law of Armed Conflict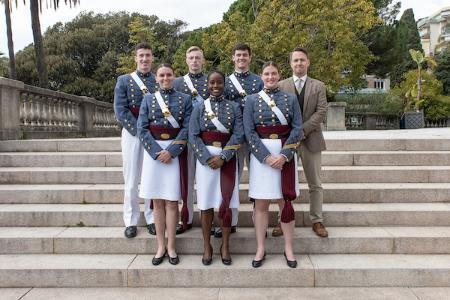 LEXINGTON, Va. April 27, 2023 — A team of cadets enjoyed success when it traveled to Sanremo, Italy, in late March to participate in the annual International Competition on the Law of Armed Conflict. The competition draws cadets from military academies all over the world and is hosted by the International Institute of Humanitarian Law. This year, 76 cadets competed from 16 different nations, including Germany, Norway, Thailand, France, Japan, and the United Kingdom. Cadets from all U.S. service academies, as well as The Citadel, were also in attendance.
This was the eleventh year that VMI has competed, with VMI's program developed by former international studies instructor, Col. Bob James. This year's team consisted of six 1st Class cadets: Ridge Clark '23, Fatoumata Diallo '23, Cassidy Dufour '23, Katie Lloyd '23, Brandon Marks '23, and Justin Miller '23. Throughout the week, the cadets worked in mixed teams alongside those from other academies to advise on the law pertaining to a fictional conflict scenario. As the situation evolved over the week, they offered legal insights into questions concerning the use of particular weapons, the treatment of different kinds of people, and how war can legally be conducted at sea and in the air.
The cadets spent several months prior to the trip becoming experts in humanitarian law, under the guidance of Maj. Tim Passmore, assistant professor of international studies. "These cadets have worked phenomenally hard and have acquitted themselves with excellence during the whole process. I couldn't be prouder of their commitment to the competition and to one another in taking on this task," Passmore said.
VMI walked away from the competition with three awards, the most it has ever won. Dufour, an international studies major, won 2nd place overall in the individual category, while Miller won 4th place. Dufour also won 2nd place in the team category for her work alongside cadets from the German Air Force and the U.S. Coast Guard.
Dufour, who will attend the University of Virginia's Law School this coming fall and who has already been accepted to the JAG Corps upon completion of her studies, found the competition to be highly enjoyable. "Between the opportunity to practice international law and meet future officers from other countries with the backdrop of the gorgeous Mediterranean, this trip was easily my favorite thing I've done with VMI," she said.
"The competition was a tremendous experience," says Clark, a history major. "It gave me an opportunity to both further my knowledge of the law while also understanding what it would be like to apply it in a real setting."
Passmore added, "This is such a good experience for cadets and will help develop skills they'll need professionally, either as commissioned officers or as civilians. It's also a wonderful venue for cadets from all over the world to convene over an important issue, while forging strong relationships at the same time. I hope for and expect some of these people to go on and become major decision makers in the future."
Having made a statement this year, VMI will return next March with a new team ready to bring home more awards for the Institute.
Maj. Timothy J. A. Passmore, Ph. D.
Assistant Professor, Department of International Studies and Political Science
VIRGINIA MILITARY INSTITUTE