Class of '66 Shatters 50th Reunion Fundraising Record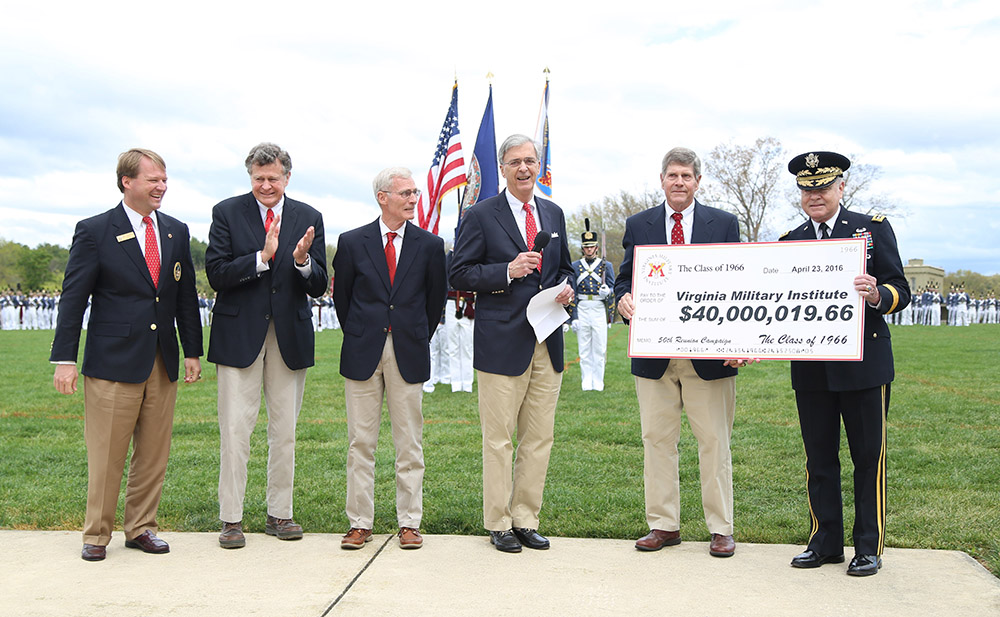 Members of the Class of 1966 present their reunion gift. -- VMI Alumni Association Photo by Micalyn Miller.
LEXINGTON, Va., April 27, 2016 – On April 23, the Class of 1966 presented the Institute with the proceeds of its 50th Reunion Campaign: a record-setting $40,000,019.66.
With this gift, the Class of 1966 set a new record for 50th reunion campaigns, essentially doubling the previous record gift, $20,086,063.63, presented by the Class of 1963 three years ago. The Class of 1966's gift, most of which is in the form of immediate gifts and short-term commitments, came from 219 members of the class and seven families of deceased Brother Rats.
The Campaign chairman, Richard V. Hines '66, said, "This resulted from the terrific effort of the 28 members of the Reunion Campaign Committee. It was their work that made this happen, and, of course, the transformational size of the gift was made possible by the heartfelt and incredible generosity not only of the class in general but of anonymous donors who enabled us to raise the giving bar to a historic level – a level we are thrilled to set because it means that others will now be impelled to beat it. What a great result for VMI!"
General J.H. Binford Peay III '62 praised the Class of '66 for its generosity and vision.
"With this magnificent gift, the Class of 1966 has done much to ensure that future generations of cadets will receive a thorough full-spectrum education that will prepare them to be active, effective, and honorable citizen-soldiers," he said. "This gift is transformative and history will treat it so. I thank every one of the Brother Rats of this class for their dedication to the Institute and for helping to prepare VMI for a brilliant future."
More information on this gift will be presented in an article in Issue 4 of the VMI Alumni Review, which will be published in November 2016.
-VMI-