Cadet Scrutinizes Arab Scrutiny of U.S. Elections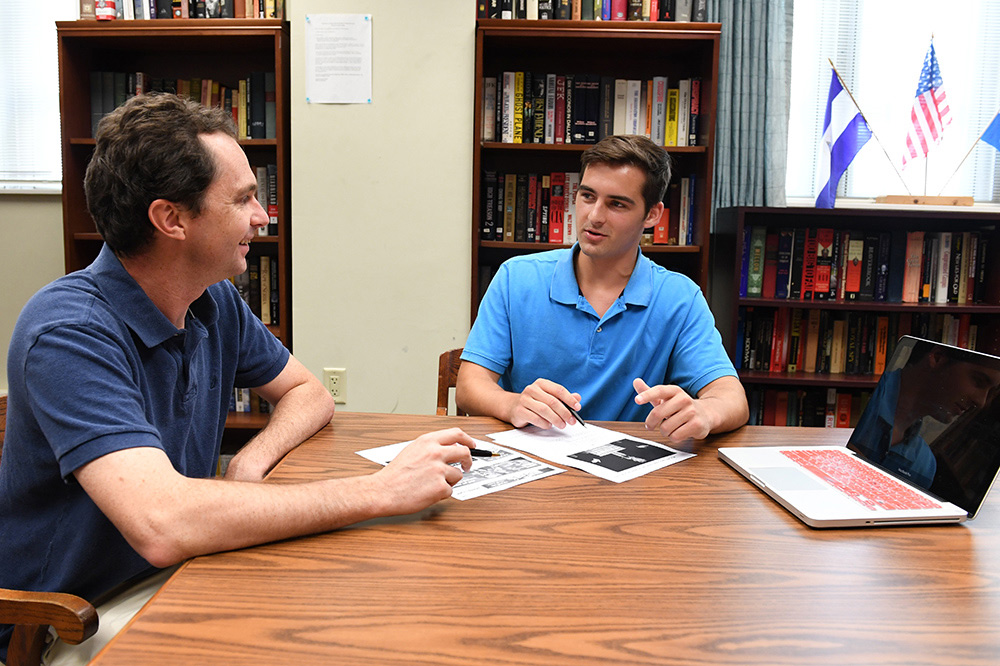 Maj. Brent Hierman and Sam Moffatt '18 discuss examples of Arabic media coverage of the U.S. election. – VMI Photo by H. Lockwood McLaughlin.
LEXINGTON, Va., July 7, 2016 – A summer research project undertaken by a cadet double majoring in international studies and modern languages and cultures (Arabic) is revealing a side of U.S. presidential election coverage seldom seen in the United States – the Arab media's perspective.
Sam Moffatt '18 already had a year of Arabic study under his belt when he matriculated at VMI because he'd studied the language on his own in high school. Now, with two years of classroom Arabic completed, plus a summer 2015 immersion program in Amman, Jordan, Moffatt is seeking to understand the Arabic-speaking world better through its media.
In fact, Moffatt was reading Arabic newspapers online when he happened upon the idea of analyzing the Arabic-speaking world's coverage of the U.S. presidential election.
"I noticed the rhetoric to be particularly striking," said Moffatt. At that point, he decided to apply to the Summer Undergraduate Research Institute program, with Maj. Brent Hierman, assistant professor of international studies, as his faculty mentor. The two had met when Moffatt took an introduction to international studies course from Hierman.
To narrow the scope of what would otherwise have been a dissertation-level project, Moffatt and Hierman decided to pick approximately three sources each from five areas: Saudi Arabia, Egypt, Palestine, Jordan, and the pan-Arab newspapers, most of which are published in London or the United Arab Emirates.
Moffatt explained that unlike in the United States, many of the newspapers in the Arabic-speaking world are government owned. Of the others, ownership is difficult if not impossible to determine. In addition, each paper includes both staff-written articles and translated pieces from wire services such as the Associated Press and Reuters.
"It's really challenging to unpack … the political stances of these different newspapers," he noted. "Arabic media is extremely complex and it's very difficult to identify where the information is truly coming from."
As the first summer session drew to a close, Moffatt was still hard at work translating newspaper articles, with the help of an obviously well-used Arabic dictionary.
"I have a strong foundation, but I'm not at a level where I can read everything perfectly in these articles," Moffatt noted.
Moffatt has found a strong sentiment of fear and distrust in the Arabic media's coverage of Donald Trump, the presumptive Republican nominee. Moffatt explained that when Trump first announced his candidacy, he received little attention. The billionaire candidate began attracting the attention of the Arabic media, though, after his Dec. 7, 2015, speech in which he proposed a ban on Muslims entering the United States.
"What I've been seeing so far is just repetitive and consistent comparisons with the Nazi party," said Moffatt. "Every editorial that I've read is quick to point out his racism and his racist policies."
The presumptive Democratic nominee, Hillary Clinton, has been under scrutiny for her policies, particularly her support of the 2003 invasion of Iraq, but not her character, Moffatt noted. Moreover, no Arabic-language newspaper that Moffatt has seen has made a point of discussing gender in the race.
"They all do want to be seen as progressive," the Richmond, Va., native noted. "Arabic media has come a long, long way since it came out in the early 2000s."
Now, in the second summer session, Moffatt is moving on to the second stage of his work, content analysis, which will involve analyzing the articles to determine their bias for or against both Trump and Clinton.
To do the content analysis, Moffatt will create a code book, which is a tool used by social scientists to empirically measure rhetoric and word choice. Hierman described the code book as an aid in the search for "whatever frame is emerging, based on the weight of the words and the phraseology that's been found.
"That will be the part of the research that really brings out the different results and patterns."
Moffatt isn't sure what he's going to do with his research once it's completed, but since he's earning a double major, plus a national security minor, and participating in the Institute Honors program, he's sure his work will fit in somewhere, whether it be an honors thesis or a capstone project.
"It's definitely something that's provoked an interest in Arabic media for me and something I definitely just don't want to drop when I'm finished," he said. Down the road, Moffatt hopes to go to graduate school and work in military intelligence.
In the meantime, he's been appreciating the experience of research – and breaking new ground. When Moffatt set out to determine if an Arabic media analysis had been done before, during an earlier U.S. presidential election, he couldn't find any published evidence of such work.
"As far as I could find, nothing really exists," he noted. "That's part of the challenge as well, trying to figure stuff out on my own, with Major Hierman's help."
An expert on Central Asia and fluent in several languages but not Arabic, Hierman has learned alongside his student.
"Sam is a really motivated cadet, which makes my job much easier," said Hierman. "It's a very valuable project. The American election is vital to most of the regions in the world. The media coverage is incredibly important, because it at least gives you access toward what certain segments of the population may be viewing about the U.S. In this global world, that's vital."
For Moffatt, the project has been worthwhile, not only in preparation for his future career, but also for the unique view of the global stage that it's provided.
"It's been pretty fun," he remarked. "Not only am I getting to practice my Arabic on a daily basis, but the Arabic coverage is far different from anything we're seeing on CNN. It's not something you think about. … There's people across the world watching and listening and commentating on everything that is said. It's fascinating to see what a different region thinks about this issue."
– Mary Price
-VMI-