Governor Supports Conservation, Renewable Energy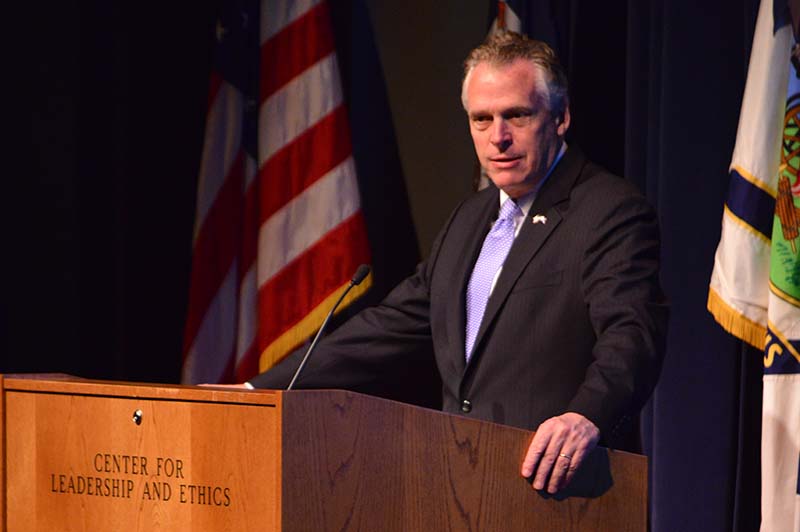 Gov. Terry McAuliffe addresses the Environment Virginia Symposium. – VMI Photo by John Robertson IV.
LEXINGTON, Va., April 6, 2016 – Virginia Gov. Terry McAuliffe opened his keynote address at Virginia Military Institute's 27th annual Environment Virginia Symposium this morning with a broad commitment to conservation of Virginia's natural resources and acknowledgment of the economic necessity of developing renewable energy.
"Look at what we have here in Virginia, 28 miles of oceanfront, the Chesapeake Bay, … look at the mountains … what a wealth of beauty we have here," said McAuliffe. "These are the greatest gifts that we could have that past generations have given to us, and I really believe we have a responsibility to make sure that we are passing them on to our children and their children as we go forward. We take this very seriously."
McAuliffe, addressing a near-capacity crowd of professionals from Virginia's environmental agencies, industries, and non-profit organizations in Gillis Theater in Marshall Hall, touched on a range of conservation and economic initiatives and achievements as he addressed the conference theme, "Virginia's Environment: Change, Challenge, and Opportunity."
Noting his role as chair of the Chesapeake Bay Program's executive council – and his status as the only Virginia governor to have appeared at the Environment Virginia Symposium twice during his term – McAuliffe pointed to the $140 million for water quality initiatives in the state budget approved earlier this year. Taking credit for proposing the funding, McAuliffe said it was a bipartisan agreement with "not one penny" removed from the original proposal.
"I'm proud to say this is the largest investment ever made in the history in the commonwealth in water quality issues," he said.
McAuliffe mentioned a number of other initiatives, including the Virginia Environmental Literacy Challenge and funding to improve and modernize state parks – drawing applause when he mentioned the planned Wide Water State Park in Stafford and Clinch River State Park in Southwest Virginia – before discussing climate change and associated economic concerns.
Renewable energy and effective planning for climate change are key to what McAuliffe called Virginia's "21st-century economy." A public-private partnership with Dominion Virginia and Microsoft, for example, is building a 20-megawatt solar facility – the kind of progress that is essential, he said, to attracting large technology companies.
McAuliffe took questions from the audience before it dispersed for sessions throughout the day on topics including solar energy, stormwater management, Chesapeake Bay restoration, and air quality. Today's sessions also include a new presentation on environmental career opportunities for college students and a "hot topics" session with state environmental leaders.
The conference continues tomorrow with a plenary session by Virginia Tech professor Marc Edwards, who researched the Flint, Mich., water crisis, and presentation of the Erchul Award and the Governor's Environmental Excellence awards.
Co-hosts for the symposium, sponsored by VMI's Center for Leadership and Ethics, are the Virginia departments of Environmental Quality and Conservation and Recreation and the Virginia Environmental Endowment.
–Maj. Sherri Tombarge
-VMI-