Non-Commissioning Cadets Volunteer during Spring FTX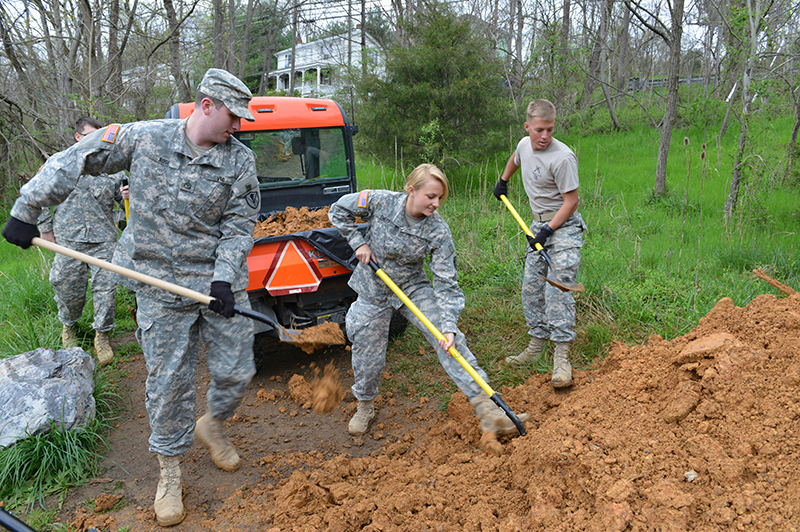 Cadets (from left) Trey Rose '16 of Midlothian, Olivia Emery '17 of Damascus, Md., and Schafer Wymond '16 of Lexington work to make the Chessie Trail safer. – VMI Photo by Stephen Hanes.
LEXINGTON, Va., April 7, 2016 – More than 500 non-commissioning cadets from the Virginia Military Institute participated in community service activities during their Spring Field Training Exercises April 1-5. Nearly half worked in the Rockbridge community with non-profit organizations. The other half worked in other areas nationwide to help their home communities.
"Because everyone was so willing and eager to help the Lexington community, my job of running the FTX was actually a fairly smooth process," said John Winalski '16 of Falling Waters, W.Va., cadet in charge. "For me, the main goal of this year's FTX was to have cadets really learn something about themselves. … VMI has received so much from the Lexington area that it's always phenomenal when we get the chance to express our gratitude and give back."
Added Col. Mitch Fridley, deputy commandant of cadets for operations, "We put it on the calendar, but it is the cadets' motivation and initiative that sends hundreds of cadets out into the greater Lexington area and to their hometowns to give back to their communities. The operation is entirely cadet organized and managed."
Many local groups contacted VMI to enlist the assistance of the cadets. Organizations such as Theater at Lime Kiln used cadet volunteers to improve the facility's infrastructure and external appearance. The cadets worked at the outdoor theater replacing rotting timbers with new ones, spreading mulch, and extending the grass parking lot areas by clearing underbrush.
Several cadets were stationed at the Chessie Trail smoothing out uneven terrain and a washed out slope at the entrance. Some of the cadets applied their engineering knowledge to this real-life problem, providing a safer entrance to the trail. Eleven cadets also went to the Appalachian Trail to restore and relocate a switchback, build an earth ramp over an obstruction, and construct a series of 18 steps on a portion of the trail. Overall, the group moved between 20,000 and 30,000 pounds of rock and completed all of the missions they set out to do.
The wonderful weather benefitted cadets running two car washes that raised more than $1,500 to help the Veterans of Foreign Wars with their operational costs. Several cadets also volunteered at the local Rockbridge Regional Library, cleaning both inside and out.
As a display of how well many of the cadet volunteer teams worked, a crew of 22 cadets cleaned the entire Lexington Fire Station in less than three hours. "[I]t was great to be able to help out my local fire department by cleaning up the station and seeing what they do on a regular basis to keep our town safe," said Alexander Alvarado '17 of Lexington.
The cadets' service was greatly appreciated, according to Maj. Tim Burrows, who is with the fire department and also works as assistant director of assessment at VMI. "All the cadets worked really hard," he said. "[There was] a lot of good teamwork that ultimately was a big help to the Lexington Fire Department."
Cadets volunteering with Ducks Unlimited helped the environmental conservation group construct boxes in the Sandy River Reservoir near Farmville to provide places for ducks to safely nest and reproduce. Another off-post event was timber framing. Thirty-three cadets worked with other volunteers to build a structure for Project Horizon to auction during a fundraiser for its work assisting sexual assault victims.
On the final day, several cadets were assigned to local schools. Teachers encouraged their young students to ask the VMI college students about the importance of education and learning for their future. Other cadets worked on beautification around the schools; some areas were repainted and brush was cleared to spread mulch.
More than 300 cadets pursued their research or volunteered off-post. Work at Safehome Systems Inc. in Covington was clearly appreciated. "[The cadets] worked hard at cleaning, reorganizing, and purging items in our donation center," said Sherrie Morton, resident advocate. "Without their help, it would have taken us months to accomplish this task."
The extended weekend of service by VMI cadets was a way of giving back to the community and allowed for many private projects to be completed at a much faster pace and lower budget.
"This service weekend is so rewarding for both the community leaders and the cadets that participate. Based on the feedback and what I saw, this operation was a huge success, and it reflects the tremendous efforts that everyone involved put into it," said Fridley.
– Cadet Andrew K. Bradshaw, VMI Class of 2017
-VMI-