Pedestrian Bridge Construction to Require Lane Closures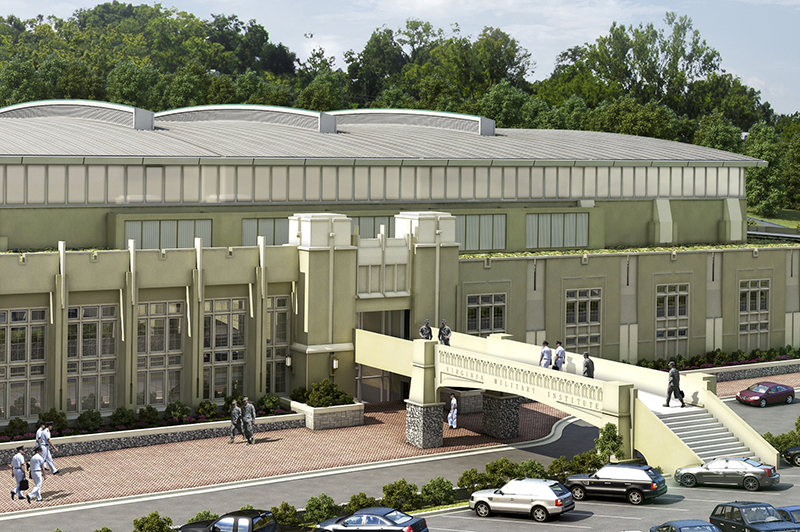 The pedestrian bridge, shown in this conceptual rendering, will minimize cadet foot traffic across Main Street when the Indoor Training Facility opens in late fall.
LEXINGTON, Va., May 10, 2016 – Construction of a pedestrian bridge from the Virginia Military Institute's South Institute Hill parking lot to the Indoor Training Facility under construction at Main and Diamond streets will begin May 17. The VMI commencement ceremony May 16 will not be affected.
Crews will work 6 p.m. to 6 a.m. Mondays through Thursdays, weather permitting, with all construction complete around mid-June.
During construction, one lane of North Main Street will be closed to traffic each night. Traffic flaggers will be posted to guide motorists through the construction area. Lane closures will alternate as the work progresses. Final erection of the bridge will require a complete road closure during the nighttime work hours, expected to occur June 13.
VMI's comprehensive plan for the construction, which includes a traffic control plan, has been endorsed by the city. Motorists driving through this area at night during bridge construction should exercise extreme care and caution and are asked to use alternate routes if possible.
The construction of the pedestrian bridge, which will minimize foot traffic across Main Street, is a milestone toward the completion of the new training facility, expected in October or November.
-VMI-