'Stay Grounded by Staying Humble'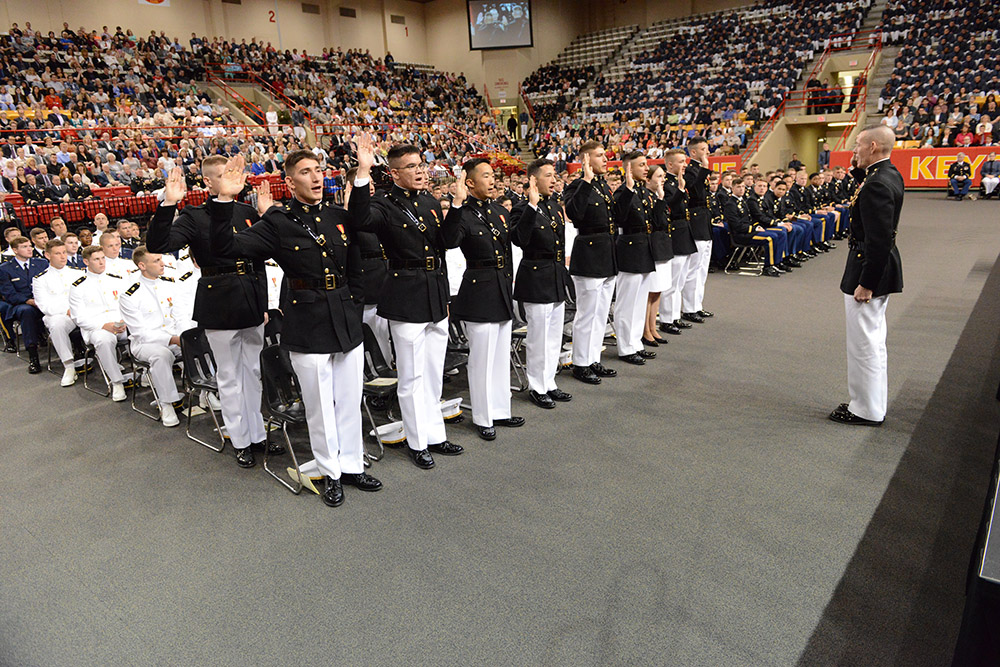 Cadets commissioning into the U.S. Marine Corps take their oath during the joint commissioning ceremony. -- VMI Photo by Kelly Nye.
LEXINGTON, Va., May 15, 2016 – Andrew Starnes '16 had to fight back the tears when he received his rank insignia and his first salute as a second lieutenant in the United States Army following VMI's Joint Commissioning Ceremony earlier today.
Facing Starnes was his grandfather, a Korean War veteran, smiling broadly and standing tall as he delivered that salute. It was almost too much for VMI 1st Class cadet to take.
"It kind of hit me when my grandpa gave me my first-ever salute," Starnes said. "I kind of got a little emotional there. Listening to his stories when I was kid, I … wanted to follow in his footsteps. This feels like a dream right now."
Starnes, who will report to Fort Sill, Okla., after leaving VMI, summed up the feelings of most of the 149 cadets who took the commissioning oath in Cameron Hall. There was a mixture of emotions, to be sure, ranging from pride to excitement to relief. At the same time, however, those who took the oath were well aware of the responsibilities they had accepted.
"Four years of hard work are finally going to come to an end," said Richard Dromerhauser '16, one of the U.S. Navy's newest ensigns, who will report to Panama City, Fla., to begin training at dive school, "but it's just the beginning."
Scott Hayman '16 took the oath for the U.S. Marine Corps and will report to the Basic School in Quantico with the rest of his fellow second lieutenants after graduation from VMI. He will take with him that sense of higher purpose.
"This is an awesome feeling, knowing the hard work we've put in," Hayman said. "It's a feeling of responsibility, too."
That sense of responsibility was not lost on Domenick Stumpo '16 either. Stumpo, now an officer in the United States Air Force, will begin his training as a pilot at Vance Air Force Base in Texas in April 2017, and while he noted that he was well aware of the amount of responsibility that he now shoulders, Stumpo recognized that he need look no further than the stage at Cameron Hall for a model to follow.
Four distinguished speakers, one from each branch of the service, delivered the oaths to the cadets. Each addressed the cadets after VMI superintendent Gen. J.H. Binford Peay III '62 congratulated the Corps. Stumpo, who represents the 54 percent of his class who will have commissioned by summer's end, will remember them all as he progresses in his Air Force career.
"We [have to] try to emulate them and take their legacy to greater heights as we go through these next four years as junior officers," Stumpo said.
One of those speakers, Adm. Michelle Howard, the vice chief of naval operations and the first African-American women to command a ship in the U.S. Navy when she took charge of the USS Rushmore in 1999, emphasized the responsibilities to which each one of VMI's cadets committed when they raised their right hands and repeated the oath. It is a responsibility, she said, none of them should take lightly.
"You are embracing the obligation of the oath, not for yourself, but for the good of the country," she said. "I can only admire your patriotism and welcome you, the newest leaders, to the fleet.
"Leadership is a choice," Howard added. "Each of you volunteered for this endeavor, so choose to be a leader every day."
While the new leaders commissioned at VMI Saturday received some of the best training in the country in VMI's ROTC programs, the leadership skills they will learn from here on out will come on the job. However, each of the speakers at Cameron Hall laid out a plan to becoming a good officer, with each emphasizing that to do so, one must maintain good character.
Lt. Gen. Joseph Anderson, U.S. Army deputy chief of staff with more than three decades of service, administered the oath to cadets commissioning into the Army, and he laid out a three-step plan to becoming a good officer. Leadership, he said, is all about people, maintaining balance, and trust.
"Soldiers must trust their leaders," he said. "This requires leaders to be honest, candid with those both above and below them and [create] a culture of trust. You must be honest with subordinates and superiors alike and hold them to the highest standards at all times.
"You are all accomplished people," Anderson added, "but you have to remember where you came from. Learn to stay grounded by staying humble."
Cadets commissioning into the Marine Corps took the oath from Brig. Gen. Stephen Neary '88, who is currently serving as the deputy commanding general with the Marine Corps Combat Development Command and has been recognized for his combat service on numerous occasions.
Like Anderson, Neary laid out a three-step plan for becoming a good officer. His plan begins with maintaining good character.
"Your subordinates watch everything you do," said Neary. "Put yourself above reproach. That is my rule number one. Do the right thing at all times. Be a person of character.
"Our nation … rightfully expects you to be of solid character, to know your job, and to take care of their [children]. So if you march, sail, or fly, … know your hard work got you here, but your ethics will keep you here."
Air Force Maj. Gen. J. Marcus Hicks '86, with more than 3,000 hours flying the AC-130H/U and C-130E aircraft, currently serves as the chief of staff in the U.S. Special Operations Command at MacDill Air Force Base in Florida. On Saturday, he celebrated the 30th anniversary of his taking the commissioning oath at VMI, and he also emphasized the importance character plays for an officer.
"Faithfully, discharge the duties to yourself first," he said. "Guard your integrity and your reputation with your very lives. None of us wants to try to explain to our grandchildren why we were drummed out of some position of responsibility for lack of integrity."
Hicks, while reminiscing about the time he sat in those same seats awaiting the time he would take his oath, also told members of the Class of 2016 that they are well prepared to face the challenges that await them.
"Trust … in what you have practiced here," Hicks said, "and you will go far."
– Chris Floyd
-VMI-