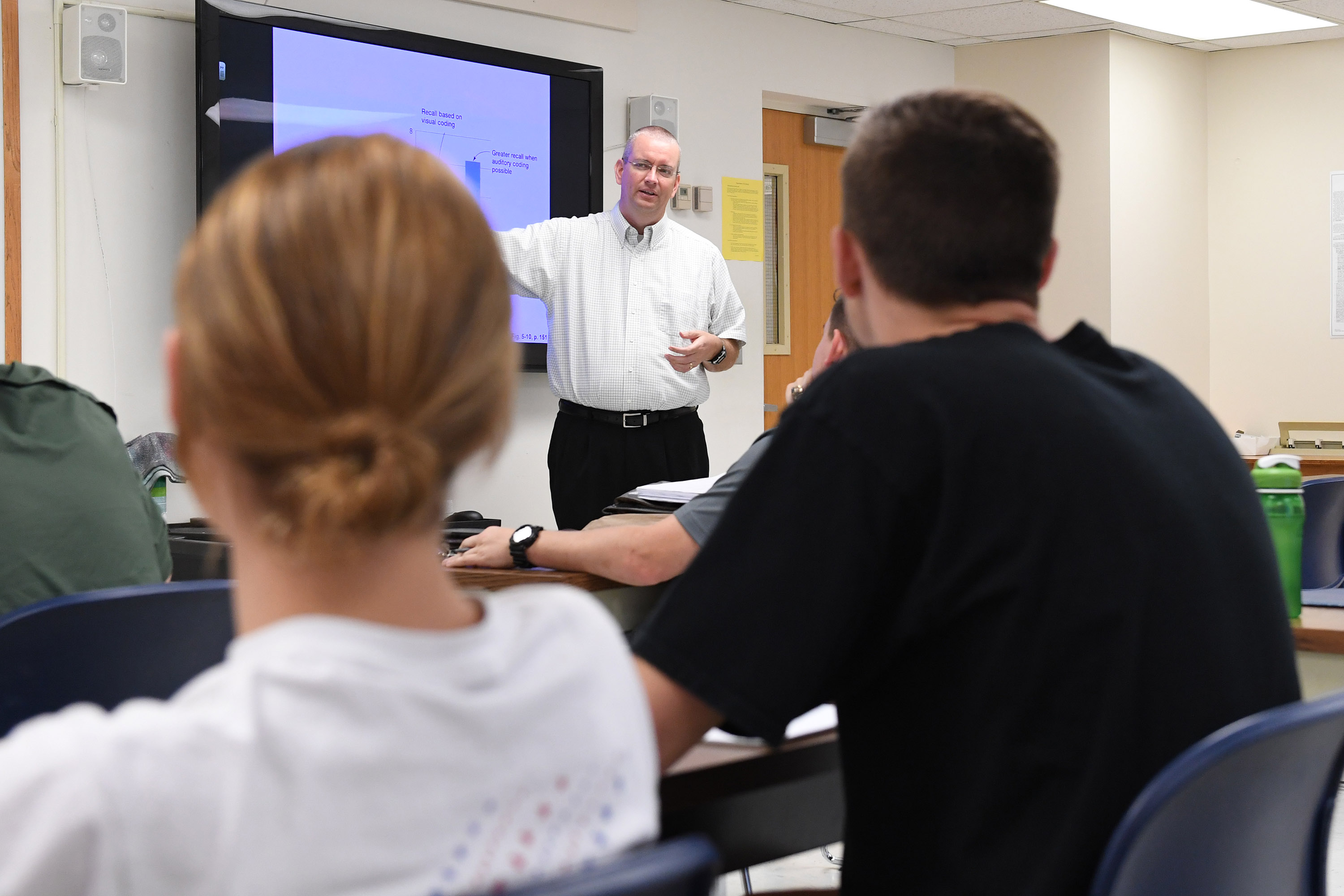 Lt. Col. Scott Frein teaches his Psychology of Cognition course. – VMI Photo by Kelly Nye.
LEXINGTON, Va., June 9, 2016 - "Summer school: not just for the academically challenged."
That's too many words to fit on a bumper sticker, but the sentiment is one expressed eagerly by faculty and cadets attending VMI's summer sessions.
While many people might think that only those who have failed a class would ever need or want to consider summer school, the real reasons cadets enroll in either or both of VMI's two summer sessions are complex and varied. Some want to get ahead so they can lighten their load during the academic year, which can include myriad Corps and athletic commitments. Others want to study abroad or double major, and getting some requirements out of the way during the summer makes it possible for them to stay on track to graduate with their class.
Others, like Will Domingo '17, have changed majors and now need to catch up on departmental requirements. Domingo came to VMI as a computer science major, but then decided that a job as a computer programmer wasn't for him. He switched to a major in economics and business and is now one of approximately 15 cadets enrolled in Financial Accounting during the first summer session, May 23-June 21.
Domingo is an old hand at summer school, having attended the Summer Transition Program in the weeks before he matriculated and taken Calculus II last summer.
"I honestly really like [the summer session]," said Domingo. "There's not all that other noise we have to deal with. You have one thing on your mind."
And without that noise, Domingo has been able to buckle down and work. The cadet from Pittsford, N.Y., estimated that he's spending five to six hours a day on course work outside of class.
"I'm really trying to pull an A here," Domingo admitted. "I guess I really deal with it as a 9-to-5. I'm only taking one class here, so there's no reason I shouldn't get an A for it."
Domingo has also found himself appreciating the teaching style of the instructor, adjunct professor Joseph Gearheart. "He teaches from experience, and I like that. … I like to really get to know what the applications are, and that's helped a lot with me," said Domingo.
Cadets aren't the only ones who see benefits from the summer sessions. Lt. Col. Scott Frein, associate professor of psychology, has been teaching most summers for about eight years. He finds the summer affords opportunities that the regular academic year does not.
"Traditionally, but not always, the summer school classes are a little bit smaller than my classes during the school year," said Frein. "That allows for more interaction with each of the students."
This summer, Frein is teaching two classes – Introduction to Psychology and Cognition – and each has an enrollment of 11 cadets. In contrast, he noted, the Cognition class he's teaching this fall has 18 names on the roster already, with a waiting list.
Frein has also found that cadets attending summer school can focus better, because they aren't distracted by extracurricular activities, and they retain the material better because summer session classes meet every day.
Approximately 220 cadets are enrolled in the first summer session, with numbers still being finalized for the second session, which will run June 27–July 26 and include incoming 4th Class cadets enrolled in the Summer Transition Program. The number of cadets choosing to attend either session has been declining in recent years, thanks perhaps to tuition costs, noted Lt. Col. Jack "Jay" Johnson, associate professor of physical education and director of the summer sessions.
Courses, though, are plentiful. Johnson said that nearly all of VMI's academic departments offer courses in the summer, and a total of 32 courses are ongoing during the first summer session. Living arrangements are flexible, but cadets have the option of staying in barracks and taking their meals in Crozet Hall, just as they would during the school year.
Like Frein, Johnson sees the summer as a chance for cadets to do what's necessary to stay on track academically. "You have the opportunity to get ahead in a more relaxed environment," he said. "If you're behind, it affords you the ability to catch up over the summer."
The summer, Johnson believes, is too valuable to be squandered.
"We want to enhance cadet retention and optimize graduation rates, and provide opportunities for research during the summer. … VMI does not shut down. Contrary to popular belief, we're still rolling."
– Mary Price
-VMI-