VMI Ranked Eighth Among Liberal Arts Colleges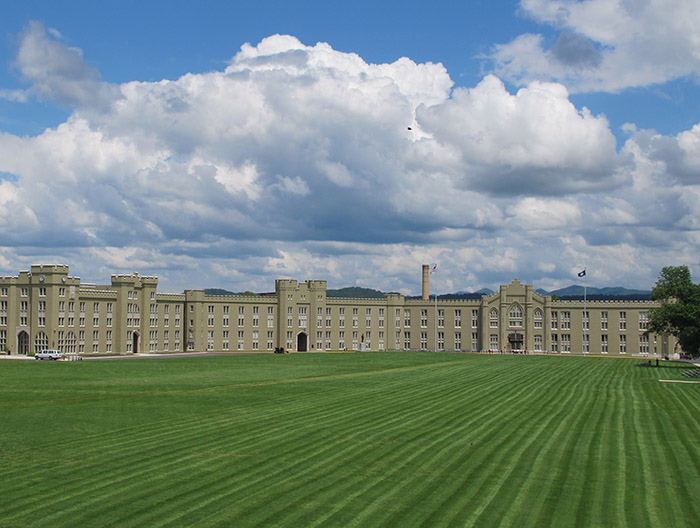 VMI is ranked eighth among liberal arts colleges nationwide. – VMI File Photo.
LEXINGTON, Va., July 11, 2016 – Virginia Military Institute is ranked eighth among liberal arts colleges nationwide in Money magazine's annual college rankings, released today. The only school in Virginia ranked higher than VMI among liberal arts colleges is Washington and Lee University, which is ranked fifth.
Overall, VMI ranked 42nd among more than 700 public and private colleges and universities nationwide, up from 48th in Money's 2015 college rankings. Other Virginia colleges and universities included in the overall rankings were the University of Virginia, ranked ninth; Virginia Tech, 18th; Washington and Lee University, 29th; and the College of William and Mary, 36th.
VMI was ranked 20th on Money's list of public colleges and universities, down from 16th last year. Other Virginia schools included on the magazine's list of the top 20 public colleges and universities were U.Va., ranked third; Virginia Tech, ninth; and the College of William and Mary, 16th.
In compiling its rankings. Money took into consideration 24 factors in three equally weighted categories: educational quality, affordability, and alumni success.
In the first category, educational quality, much weight is given to graduation rates, including the six-year graduation rate and the value-added graduation rate, which is the difference between a school's actual graduation rate and its expected rate, based on the economic and academic profile of the student body. Money calculated VMI's graduation rate at 71 percent.
The second category, affordability, is calculated by taking into account the net price of a degree, debt, and student loan and default risk, among other factors. For VMI, the estimated cost for a student not receiving aid was $28,100, and for a student receiving aid, $13,800. The average debt for a VMI graduate was $23,500. Sixty-six percent of VMI cadets receive either need-based or merit financial aid.
For the third category, alumni success, Money used alumni earnings, both within five years of graduation and mid-career, as self-reported to Payscale.com, an independent website that allows individuals to report their earnings and compare their data with those of others of similar experience and skills. Money reported that a VMI graduate's average salary within five years was $56,400. In addition, Money took into account the percentage of a school's graduates who consider themselves to be in "meaningful" jobs.
The full list of rankings can be found at http://new.time.com/money/best-colleges/rankings/best-colleges/.
-VMI-