Army Chief of Staff to Speak at VMI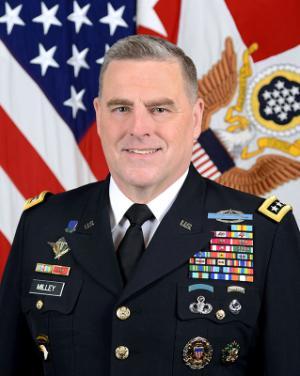 LEXINGTON, Va., Jan. 30, 2017 – General Mark A. Milley, Chief of Staff of the U.S. Army, will speak to the Corps of Cadets in Cameron Hall Feb. 8.
The event, which is free and open to the public, begins at 11:15 a.m. Doors to Cameron Hall will open at 10 a.m.
UPDATE:

Those in attendance are asked to minimize the items they bring to facilitate security screening. Cameras and phones are acceptable, but attendees are asked not to bring backpacks or other large bags.
"General Milley's role as Chief of Staff gives him a unique perspective concerning the challenges and complexities of the world and the security of our nation at this point in history," said General J.H. Binford Peay III '62, VMI's superintendent. "I'm sure our cadets will find his remarks fascinating."
General Milley was appointed to the top position in the U.S. Army in 2015 after serving in command and leadership positions since his graduation from Princeton University in 1980. Among the units in which he has served are the 82nd Airborne Division, the 5th Special Forces Group, the 7th Infantry Division, the 10th Mountain Division, the 25th Infantry Division, and the 101st Airborne Division. He has participated in operational deployments to Africa, Latin America, and the Balkans, as well as three deployments to Afghanistan.
The 1,700 members of the VMI Corps of Cadets all participate in ROTC. The Army ROTC unit is the largest ROTC unit at the Institute and the largest such unit in the nation. Other ROTC units at VMI produce officers for the Marine Corps, the Navy, and the Air Force.
- VMI -