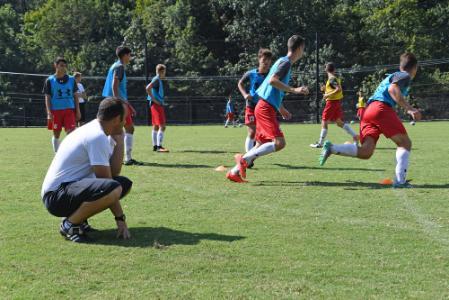 Coach Mike Bonelli watches the action during a recent soccer practice at North Post. – VMI Photo by John Robertson IV.
LEXINGTON, Va., Sept. 27, 2016 – VMI's men's soccer team hasn't won a game since 2014, and the Keydets haven't posted a winning season since 2004.
Yet when one talks to new head coach Michael Bonelli, even the most skeptical observers have to believe that is going to change.
"It takes getting better every day, working as a unit, doing the right things, and eventually it's going to pay off," said the new head coach of his team's chances of picking up that elusive first victory. "It just takes time."
Time. And lots of hard work.
Bonelli, who had previous stints at St. Mary's in Texas, where he led the team to 16 victories over a two-year span, and Slippery Rock, where the team climbed to as high as No. 8 in the national rankings, knows that much of the work must be done in two key areas.
First, there has to be a change in attitude. That's not an easy task considering the lack of on-field success the Keydets have had of late.
"The product is winning soccer, but we talk to the team every day about the process, developing a championship-winning culture," Bonelli said. "It's the process of doing the right things every day, improving every day. Obviously, they haven't had too much success [lately] from a win-loss perspective, but I think if we do the right things on a daily basis, we'll start to see results, and just doing things right on a daily basis, we're going to start building a championship program here.
"It's not just a process for soccer," the coach added. "It's a process for post-graduation. What we teach them on the soccer field can be translated to their lives."
To be sure, changing culture is not an easy task. But Bonelli said so far the players have responded.
"That's the biggest part, [is] changing the culture, getting them to buy into what we're selling," he said. "I have to give credit to our four seniors, who are buying into the message that we're trying to get across: doing the right thing on a daily basis. I wish our record was where we want it to be, but the team is working hard every day. They're doing what we're asking."
Another key area on which Bonelli and assistant coach Charlie Hubbard are focusing is recruiting. The coach knows that if the program is going to become the system he envisions, he has to get quality recruits to sign up.
That, too, is daunting. How does one convince top players to join a program that has struggled over the last few years?
"We have to get recruits into the program to help us continue to build this program, recruits that have bought into our philosophy," Bonelli said. "I think our sell is, 'You are going to be the first. You're going to be the first to help us get to that next level as a program.' If they can see our vision, I think the Institute sells itself."
Bonelli has embraced the VMI way, going so far as implementing aspects of daily life on post, like the fitness test every cadet must pass, into the soccer team's regime. At the same time, he does not shy away from the often grueling life of a cadet as a selling point to potential VMI soccer players.
"We want to paint a clear picture of what VMI is about," said the coach. "Sometimes we are going to lose recruits, but the ones we get, this is the place for them.
"My philosophy is we're going to use everything as a positive here," Bonelli continued. "We're going to embrace the discipline at VMI, and that's going to translate onto the field."
So far, that hasn't been the case. The Keydets lost their first five games of this season, but ever positive, Bonelli sees the team getting better all of the time. For him, it's just a matter of time before that improvement puts the VMI men's soccer team back into the win column.
"We haven't got that first win yet, but I know it's coming," said Bonelli. "It's a difficult process. [But] it's not a matter of if; it's a matter of when. It's going to happen."
– Chris Floyd
-VMI-