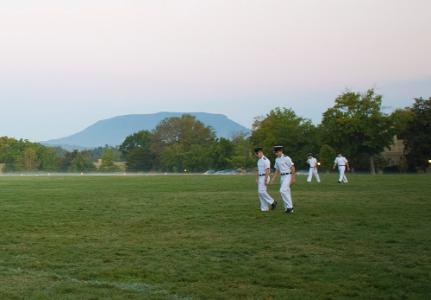 VMI graduates have median earnings of nearly $70,000 eight years after graduation. -- VMI Photo by John Robertson IV.
LEXINGTON, Va., Sept. 25, 2016 – Virginia Military Institute graduates have the highest median earnings eight years after graduation among graduates of more than 30 of the state's four-year colleges and universities, according to a report released Thursday by College Measures, a subsidiary of the American Institutes for Research. The American Institutes for Research is a private, non-partisan organization headquartered in Washington, D.C., that conducts behavioral and social science research.
According to the report, the median wage of a VMI graduate eight years after graduation is $69,445. Graduates of George Mason University were the second-highest earners, with median wages of $62,317. Rounding out the top six were Virginia Tech, $61,208; the University of Virginia, $60,878; the University of Richmond, $59,674; and James Madison University, $55,036.
Some private institutions, including Washington and Lee University, were not included in the rankings.
The report's authors noted that of the top four schools, all are public institutions. Furthermore, graduates of public colleges and universities earn more than $7,000 per year more than their peers who attended private institutions.
Salary data for the report came from the State Council of Higher Education for Virginia and from wage information from Virginia's unemployment insurance records system. The report only includes data for college graduates working in Virginia. It does not include graduates working elsewhere, students from non-accredited institutions, and those who go on to obtain advanced degrees.
Additional data about the earnings of VMI graduates was released earlier this week by PayScale.com, a website that allows individuals to self-report their earnings. In that report, the median early career earnings of a VMI graduate were listed as $54,000 while median mid-career earnings were reported as $108,000. In PayScale.com's national rankings, VMI was tied for 36th with Bucknell University, Rose-Hulman Institute of Technology, and the University of California-San Diego.
-VMI-