'Making the Magical Logical'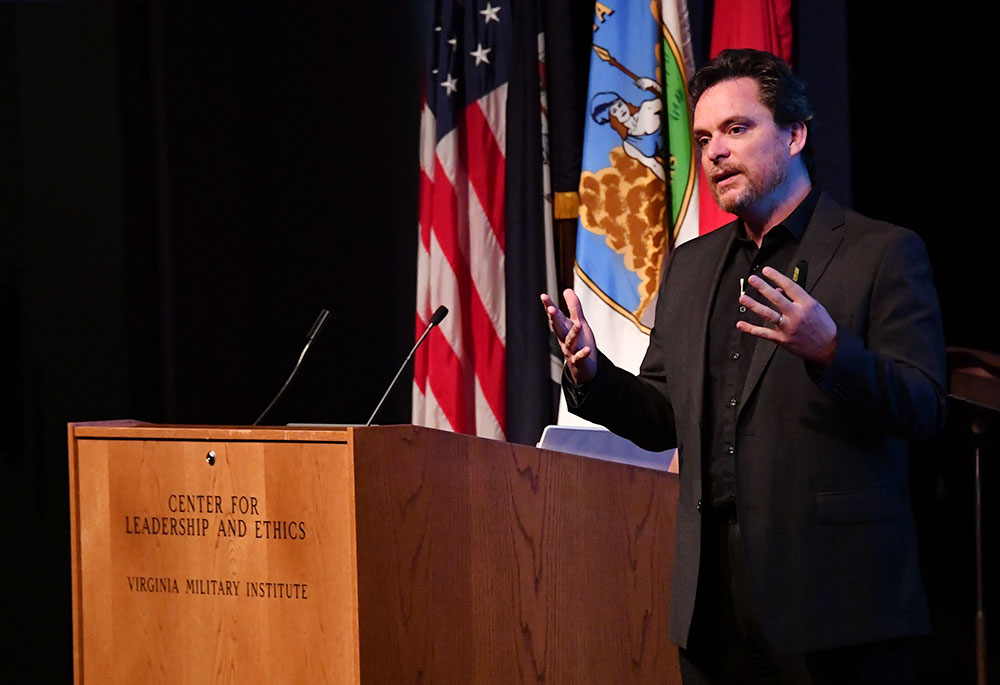 Tim Chartier addresses the conference in Gillis Theatre. – VMI Photo by H. Lockwood McLaughlin.
LEXINGTON, Va., Oct. 5, 2016 – Tim Chartier is a man on a mission – a mission to help students develop a good story, just one good story, about mathematics.
Chartier, professor of mathematics and computer science at Davidson College, addressed the approximately 300 participants in "Math: The Roots of STEM," this year's STEM education conference, this morning in Gillis Theater in Marshall Hall. Chartier also took time after his talk to sign copies of his new book, Math Bytes: Google Bombs, Chocolate-Covered Pi, and Other Cool Bits in Computing.
Chartier told his listeners, most of them elementary school teachers, that many of the students who enroll in the math for humanities majors course that he teaches at Davidson – what he calls the "math haters" class – haven't had a single positive experience with mathematics when they arrive in his classroom. It's his goal to change that so they leave his class with one good story.
"We have 16 weeks to find that story," Chartier tells his students. The goal of that good story isn't to turn students into mathematicians, Chartier said, but rather to have that story available when a child enters the students' lives at some point in the future and expresses an interest in the STEM fields.
The moment that students are told they're there to find their story, they relax, Chartier related. "It's that moment when they realize they can have their own story, their own moment in class where math takes root, where we begin our journey together."
In his talk at VMI, titled "Math-nificient Stories," Chartier showed his listeners math games to get students engaged and then talked about the moments when math seems magical – when someone nearby does something that seems unexplainable.
"They're not a magician," said Chartier. "It happens that they just saw the trick, if you will. … Math makes the magical logical."
Halfway through his talk, Chartier discarded his suit jacket and put on a well-worn brown hat to step into his other role, one that preceded his career as a math professor: that of performance artist. A professionally trained mime, Chartier performed a skit in which he attempted to arrange a group of small plungers in an orderly fashion, yet always wound up with one left over.
The plunger skit, he related after it was over, is an ideal way to illustrate the concept of prime numbers.
With an extensive background in sports analytics, including stints consulting for the Sports Science program on ESPN, Chartier also demonstrated how math can illustrate the annual spring ritual of March Madness, when the NCAA men's basketball season heads to its finale.
"Those are the kind of stories that we want," said Chartier.
Math, in addition to its utility in day-to-day life, can help deeper life lessons to take root as well, Chartier noted. "Math can help us learn that sometimes we don't understand things, and that's okay. … Life is better thought of without thinking of the terms of failure and success. Aren't the times that we struggled in life often what gives us the perspective that leads to future success?"
For Chartier, math and the STEM fields in general can help students find a balanced approach to the challenges they'll face as adults. "The humanities can help connect us to the human experience and the humanity of what we do. … STEM can connect us to the many ways that who you are can help you set an ever brighter future. But to do that, you have to be comfortable standing in the unknown."
The conference began yesterday, Tuesday, with a talk by mechanical engineer Christine McKinley, followed by multiple breakout sessions. The conference concludes this afternoon.
– Mary Price
-VMI-