The 'Transformative Power' of Math and Science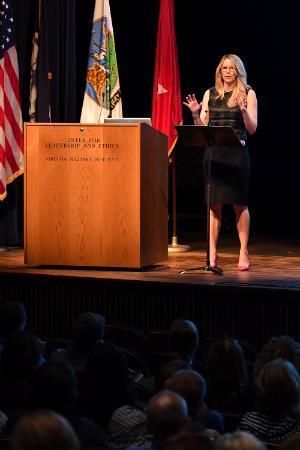 Christine McKinley addresses the STEM education conference in Gillis Theater. – VMI Photo by H. Lockwood McLaughlin.
LEXINGTON, Va., Oct. 4, 2016 – "I can recall specific instances of wonderment in my early education and they all took place under the influence of teachers like yourself," said Brig. Gen. Jeffery G. Smith Jr. '79, deputy superintendent and dean of the faculty, this morning as he welcomed educators that filled VMI's Gillis Theatre for the fifth annual STEM education conference. "They punctuate the vast, dark, inky sky of my mind like stars. What you do is essential to the collective welfare of our families, that of our nation and our world."
Smith addressed more than 300 participants, most of whom are elementary school teachers and administrators, as the conference, titled "Math: The Roots of STEM," got underway.
Smith introduced the keynote speaker, Christine McKinley, as the best person to tell the story of relationship between humans and technology. McKinley is the author of Physics for Rock Stars and wrote the musical Gracie and Atom. She has also been host of the History Channel's Decoded and the Discovery Channel's Under New York.
"Most problems that interest us require the applications of the scientific method, the use of computers, and a fundamental understanding of how humans behave and interact," he said. "Christine presents science as performance art."
But McKinley spoke less of the math involved in her book and more of her gratefulness for elementary school teachers, describing their influence in her life.
"It all starts with you," she said. "Because of the grades you teach, I feel like I am speaking with the special forces of the teaching world."
She went on to describe her difficult childhood in Anchorage, Alaska, where she and her sister were raised by a single mother with epilepsy. School served as a sanctuary from a home where the girls scraped by on canned peaches donated by concerned neighbors.
"School for me was an escape. It was a warm building. … I got free lunch there, and my teachers were very kind.
School also became a catalyst for McKinley, providing her with opportunities to make a better life, opportunities that led her, despite her love of language, literature, and history, into mechanical engineering. And though it was difficult for her – she never made perfect grades – she discovered a love for chemistry and physics.
"The reason I loved it is that chemistry showed a world that was ordered for sure, but physics showed a world that was fair. And that was not my perception of the world until I took physics," she said.
McKinley recounted the ways teachers made learning difficult material easier for her, which included recognizing when they made mistakes and fixing them, asking if the solutions made sense, and encouraging students to get started on problems by writing or drawing them out.
She also described some of her own tricks, like moving her hands to imply heat transfer or pressure build up or assigning personalities to substances.
"Water is lazy and has to be motivated in some way," she said, for example.
She concluded by encouraging the teachers to push math and science even to the most disadvantaged kids.
"Much is made of art and literature and how it can save a kid, but math and science has the same transformative power."
The conference continues with breakout sessions throughout the day, on topics ranging from aquaponics and sustainability to integrating maker stations into the classroom. Tomorrow, participants will hear plenary speaker Dr. Tim Chartier, professor of mathematics and computer science at Davidson College and sports data analyst, with more breakout sessions to follow.
– Kelly Nye
-VMI-