Members Named to VMI Board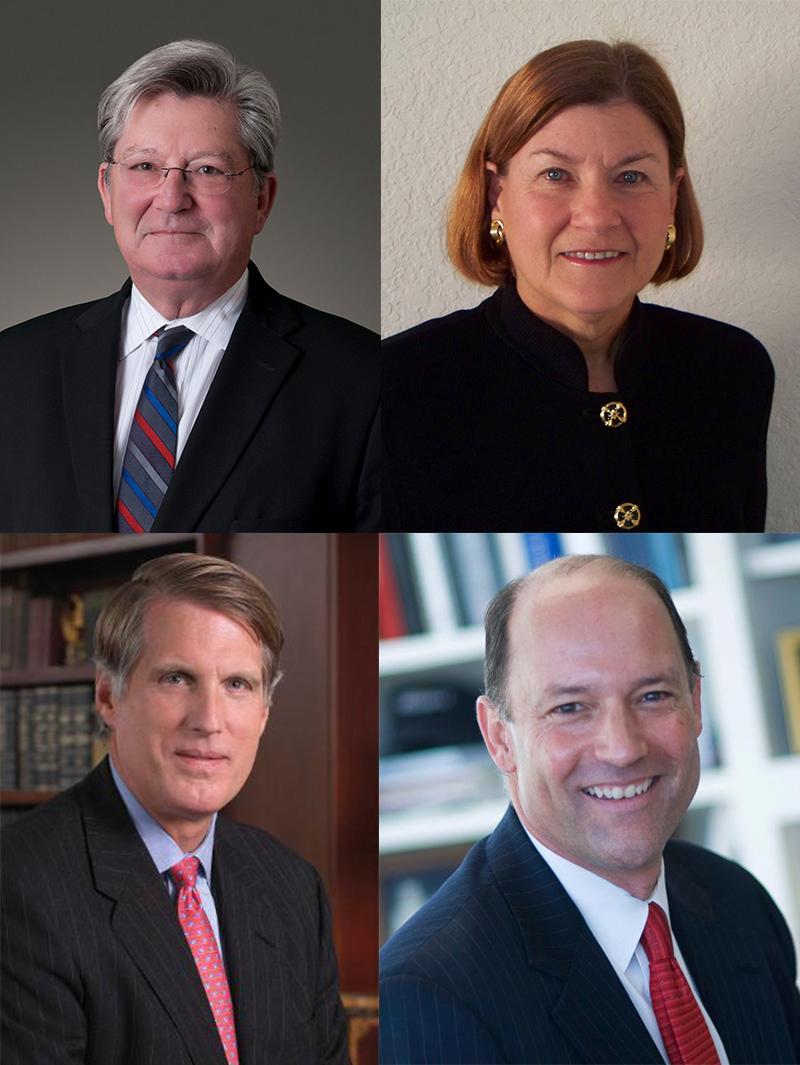 LEXINGTON, Va., June 6, 2017 – The appointment of two new members of the Virginia Military Institute Board of Visitors and the reappointment of two current board members were announced Friday by Gov. Terry McAuliffe. One of those reappointed, Bill Boland '73, will assume the presidency of the board.
Beginning their four-year terms July 1 are Hugh M. Fain III '80, director of the law firm Spotts Fain in Richmond, and Thomas R. Watjen '76, non-executive chairman of Unum Group board of directors – a Tennessee-based Fortune 500 insurance company.
Fain graduated from the Institute with a Bachelor of Arts in economics and continued his education at the University of Virginia School of Law. During his 30 years as a litigator, Fain has also been the past president of the Virginia Bar Association, VMI Foundation, Inc., and the VMI Alumni Association. Fain was ranked in Chambers USA 2015 and Best Lawyers in America in 2017 in four categories.
Watjen also earned a Bachelor of Arts in economics from VMI and graduated from the Darden School of Business at the University of Virginia with a Master of Business Administration. He served as the president and CEO of Unum from 1994 to 2015. Prior to his time at Unum, Watjen was a managing director at Morgan Stanley & Co., a partner with Conning & Co., and worked in the investment and corporate finance areas of Aetna Life and Casualty.
Appointed to their second four-year terms were Boland, a partner and chair of McGuireWoods' business and securities litigation department, and Retired Lt. Gen. Fran Wilson, U.S. Marine Corps.
Boland, of Richmond, was a member, and former president, of the Central Virginia Legal Aid Society board. Boland is also a founder of "Rebuilding Together," formerly Christmas in April-Richmond, a nonprofit organization that rehabilitates homes for low-income families.
Wilson, of Virginia Beach, served at the U.S. Naval Academy as a company officer in the Brigade of Midshipmen and as an assistant professor in the Professional Development Department during her 37 years in the Marines. Her final assignment on active duty was president of the National Defense University. She holds multiple master degrees and a doctorate in education from the University of Southern California. Wilson has earned numerous medals including the Navy Distinguished Service Medal, Defense Superior Service Medal with oak leaf cluster, and Defense Meritorious Service Medal.
Two members of the board are leaving after eight years of service. They are Gen. John P. Jumper '66, retired chief of staff of the Air Force, who served a one-year term as the VMI board president, and Kimber L. Latsha '77, a founding principal of Latsha, Davis, & McKenna, P.C., a law firm headquartered in Mechanicsburg, Pennsylvania.
–VMI–