Campaign Enters Final Month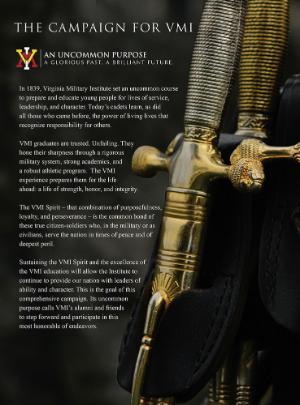 LEXINGTON, Va., June 2, 2017 – VMI's major fundraising campaign, An Uncommon Purpose: A Glorious Past, A Brilliant Future: The Campaign for VMI, will conclude on June 30. With donations still being accepted, the campaign has already raised more than $322 million in gifts and commitments.
"Thirty days are left to strengthen every aspect of VMI's unique education," said Donald M. Wilkinson '61, campaign chairman. "Thirty days remain to provide more scholarship support to the Corps of Cadets. Thirty days are left to enhance the programs that preserve the Institute's amazing heritage."
The campaign has engaged all elements of the VMI community to raise money to ensure VMI maintains it place among America's top colleges and universities.
"An Uncommon Purpose already has been one of the most consequential efforts on VMI's behalf," Wilkinson said. "The more than 15,250 alumni and friends who have heeded the campaign's call so far have done much to ensure the Institute's continued ability to educate the citizen-soldiers that our country will always need. From now until last minute of the last day of this campaign, however, we'll do everything to attract more donors to this effort."
Information about the campaign and its progress is available at www.vmi.edu/campaign.
- VMI -