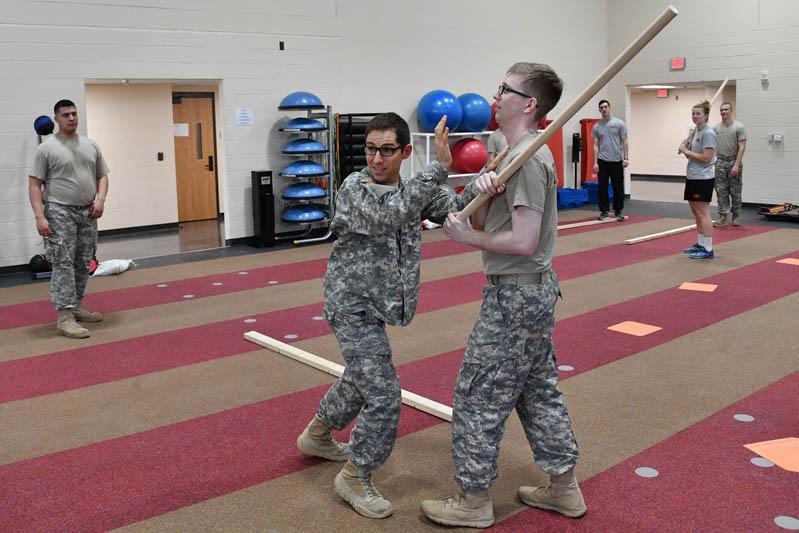 LEXINGTON, Va., March 2, 2017 – There are no gladiators or sword fights, yet the modern warriorship course that Maj. Matt Jarman, assistant professor of psychology, is teaching this semester has its roots in ancient Rome – and more specifically, a saying attributed to the Roman poet Juvenal: "A sound mind in a sound body."
Jarman's class motto creates a purpose for striving toward that ideal: "Be strong to be helpful, in body and mind." The class motto was adapted from MovNat's motto: "Be strong to be helpful." Jarman is a certified trainer for MovNat, a program that encourages participants to utilize the entire range of human movements, including crawling, carrying, jumping, running, and more.
Jarman brings a unique blend of personal and professional interests to the class, which is held in Cormack Hall so the cadets can use the floor space there to learn movement techniques. On the professional side, he does research on meditation, which he describes as "one key tool for mental fitness."
Jarman described the purpose of the class as "mentally and physically preparing cadets to be of help to others, whether in a military context or not." Being of help to others, he noted, is part of VMI's ideal of the citizen-soldier – and he felt that a new class might help cadets grow into that ideal. "It didn't seem like there was much explicit mention of what [the citizen-soldier] was and how to become one," he stated.
The 19 cadets enrolled in the modern warriorship course this semester learn via the flipped classroom model, in which students read textbooks or watch videos outside of class and then meet in the classroom to discuss what they've learned.
In the case of Jarman's class, cadets watch videos on topics such as courage, fear, and stress, before discussing these topics in class. They then move on to the heart of the matter: applying these psychological topics to physical training that combines functional movement techniques such as climbing with combatives training, including how to respond to weapons.
"Much of [the course] actually looks like a PE class," Jarman noted.
In addition to the physical workout they get in class, the cadets are required to spend 20 minutes each day meditating. Mental fitness, Jarman believes, gets short shrift in modern life. "As a society we tend to neglect the mental fitness component, or we tend to minimize its importance," he commented.
To that end, Jarman doesn't cosset his cadets, either mentally or physically. There are no chairs in the meeting area because sitting on the floor is an intentional part of the class. It's a purposeful discomfort, as is another assignment sure to bring shivers of dread for some: taking a cold shower. Jarman explained that he's eager for the cadets to see that dread is a self-generated and self-inflicted emotion.
"That totally awful mental feeling [about taking a cold shower] is being generated by your thoughts," he commented. "Meditation is about learning to let go of those thoughts. By doing that you gain confidence in your ability to put yourself in challenging situations."
In that vein, Jarman wants to be able to get cadets past another fear when they come inside the new Corps Physical Training Facility to use the high ropes course sometime this semester.
And when the semester is over, Jarman is hopeful that the cadets will have found a new outlook on life, bolstered by new and healthy habits. "From my perspective, warriorship is disciplined, regular training, both mental and physical," he commented. "Warriorship should become habitual. If it's habitual you don't even have to exert willpower. It's just something you do."
- Mary Price
-VMI-