Being WiSE to STEM Opportunities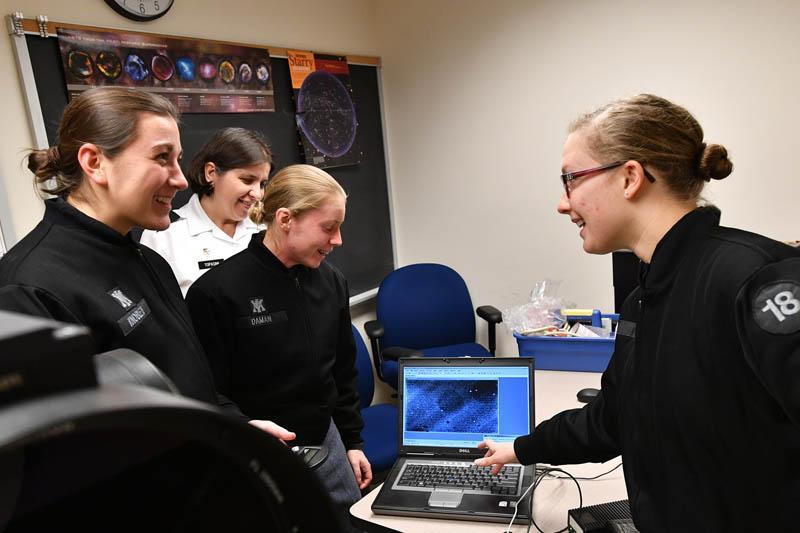 LEXINGTON, Va., Feb. 13, 2017 – There's a new group on post for cadets majoring in the STEM disciplines of science, technology, engineering, and mathematics – and it just received funding from a national organization.
WiSE, which stands for Women in Science and Engineering, was formed two years ago to support female cadets pursuing those traditionally male-dominated disciplines. The group, now with about 15 members, got a boost this year with the receipt of a $1,000 grant from the American Physical Society's Committee on the Status of Women in Physics. VMI was one of 11 institutions nationwide to receive funding from the organization this year.
"Last year was the second time we applied and we were fortunate to receive the funding," said Col. Daniela Topasna, professor of physics and astronomy, who serves as mentor to the group.
Topasna said the funds would be used to further the group's existing activities, which include dinners, movie nights, and field trips to labs and other places of interest to STEM majors. Often, members of WiSE join with other groups of cadets on post for these excursions. In the spring of 2016, for example, members of WiSE and the Society of Physics Students came together to visit the Naval Surface Warfare Center at Dahlgren, Virginia.
Closer to home, the WiSE group gives presentations to children at the Virginia Science Festival at Lexington each October, with the goal of showing them just how much fun science can be.
"One of our goals is to get more involved with the community," said Marlene Haag '18, vice president of WiSE for the 2016-17 academic year.
"Science gets a bad reputation a lot for being too boring or too nerdy or too hard," Haag continued. "But if we can show kids at a young age how much fun it can be and how cool it is and how interesting it can be to be a successful scientist or science student, then maybe they can grow up with a better attitude toward it."
Members of the group would like to begin an outreach program to local schools, both Topasna and Haag said, if cadets' schedules permit.
WiSE members, particularly upper class cadets, also take time to encourage and support female 4th Class cadets majoring in the STEM disciplines. Topasna said she's excited that of the 10 physics majors in the Class of 2020, three are women.
"It's also good to be mentors to the Rats," she commented. "We want to keep them in our major."
Agreeing with Topasna, Haag stated, "Here [at VMI], there's so few women already, and the women in the science fields are even fewer."
The goal of the WiSE group is to encourage cohesiveness and community among those women, noted Col. Tim Hodges '80, chair of the Department of Physics and Astronomy. "We created the club at VMI to give the STEM undergraduate women a way to connect with each other …. so they could support each other and complete these difficult majors," Hodges said.
"It's important to have a role model to discuss this with," Hodges stated, "and that's our female faculty." He added that his department has three tenured women faculty members, out of a total of 10.
Haag stressed that while the group's name suggests that it's only for women, and specifically those majoring in the STEM fields, the group welcomes and all interested cadets. "The cool thing about it is that men are also welcome if they'd like," she said. "It's an open and free space for people to come and feel welcome. This club is a great way to find out how you can further your studies and your career in science."
-- Mary Price
-VMI-